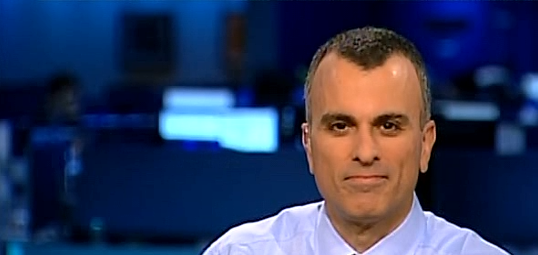 Wonder if Joe has to pay the Najarian Family Office for telling him to buy AAPL calls
Viewers often wonder how Fast Money/Halftime Report panelists trade in real life.

Apparently, they sometimes just turn to each other.

Joe Terranova on Tuesday's Halftime revealed that last week at the NYSE, Pete Najarian "completely bailed me out" of Joe's QQQ put position because he "walked me into the August 25 calls in Apple," and somehow, "that literally saved the entire position."

Honestly, we don't have a clue how buying weekly AAPL calls "literally" saved Joe's QQQ puts.

But if it worked for him, great.
Psst … This is the North Korea endgame, boasting and testing a military device and showing the world its technological limits while doing absolutely nothing of significance
Judge opened Tuesday's Halftime Report trumpeting his "exclusive" chat with David Tepper, who apparently called this "nowhere near an overheated market" and dubbed comparisons to 1999 "ridiculous."

Well, can't argue with that.

As for rate moves, "50 basis points is not going to make a difference," Tepper is said to have told Judge.

Judge said Tepper likes MU and WDC as well as BABA, FB and GOOGL.

Tepper apparently told Judge that the North Korea situation "might not go away." (Ah. Yes. So real bombs might really start falling then?)

Steve Weiss basically said Tepper is the greatest investor since sliced bread.

But Weiss, naturally, felt obliged to tangle with Kevin O'Leary when O'Leary declared, "Tepper is a credit guy."

"That's wrong, Kevin," Weiss blurted.

O'Leary tried to insist that Tepper does something about evaluating credits.

"He goes where the puck's gonna go," Weiss explained.

O'Leary insisted that shorting bonds is making a call on credits.

Whatever. Stiff-arming some recent guests, Joe Terranova said "no disrespect" to Howard Marks or Jeffrey Gundlach or Lee Cooperman, but Tepper's comments are the most "relevant" he's heard about the market.

Joe praised Tepper for removing himself from a narrative or "predetermined bias" toward the market.

Jon Najarian called Tepper "a very wise investor." As for the possibility of rising rates, "Maybe we get to 2.60 this year" in the 10-year, Doc shrugged.

Pete Najarian insisted today's market is "nothing" like 1999, pointing to CSCO, which of course makes Howard Marks' point, that nobody's saying the market's toppy.

Joe pointed to AAPL and NVDA and said we're "resurrecting that momentum once again."

Judge said Tepper's message is, "Don't get out too early."
Kevin Plank quit manufacturing panel before Steph Curry could make a comment about it
Pete Najarian on Tuesday's Halftime called HD the "opportunity" in retail names.

Judge said it's done "nothing recently." Stephen Weiss said the "marginal buyers" in HD have "dissipated," but he thinks it's surprising that the stock's down on the numbers.

Jon Najarian said COH November 45 calls were popular; "I jumped in." He said he likes spending 95 cents for the calls better than buying the stock.

Pete said October 65 calls in LULU were popular.

Doc said the Second Skin line is sort of eating the lunch of Kevin Plank's product.

Steve Weiss said he bought more BABA last week and said the biggest fear is that you wake up some day and, "Where's Jack Ma?"

Weiss said of the hedge fund world, "So many big names are there" in BABA.

Judge said that "some hedge fund hotels do well."
Movie theaters need to adopt airline-like pricing; for some reason, they can't
Julia Boorstin on Tuesday's Halftime had a heap of trouble sputtering out the "$9.95" Moviepass fee.

Jon Najarian noted that concession sales, not tickets, are where theater chains actually make money.

Joe Terranova said the industry's in "secular decline" and said he's surprised there hasn't been "significant activism" in the space.

Stephen Weiss said he's not sure it's a good activist target.
How come Judge didn't ask Tepper if Ackman was seeking 1 week or 45 days?
Explaining that presidential viewpoints don't really affect stock markets, Stephen Weiss on Tuesday's Halftime said Barack Obama was "oppressive to business," but the Obama markets were better than Reagan's and Clinton's.

Still grasping for the last week's Most Incredible Trade of All-Time, a meager puff of the VIX, Kevin O'Leary asserted there's a "pent-up concern about volatility" that won't go back to old lows, insisting the "noise in the universe" of equities will rise.

Jon Najarian rattled off GLW downgrade details without opining on the stock.

Stephen Weiss said of SNAP, "The company's going the wrong direction," and he's staying with the puts.

Pete Najarian agrees with the WYNN upgrade and doesn't see 150 as "anywhere close" to out of reach.

Joe Terranova said that, talking about P, he's reminded of how much money he has lost in the name. (Too bad Pete didn't walk him into any calls.)

Doc said he likes STZ among the staples and, as far as its products, he said he thinks the panel "enjoy it regularly."

Steve Weiss said the top line on consumer staples isn't growing that much.

Joe suggested DEO and Nestle.

Jeff Kilburg said Dudley's comments were 1 of 2 reasons the dollar was climbing. Anthony Grisanti said there's a "really nice base" at 92.60, and it looks like the dollar "has turned around a bit."

Pete Najarian claimed BBY is "winning against Amazon."

Weiss said FL is getting more inexpensive; Joe called it a "value trap." (Karen Finerman, in stunning new hairstyle, on Monday's Fast Money said she's hoping for a big quarter, but, (sigh), we'll just say that even if the company reports $25 billion in quarterly earnings, the market will sell the pop within a day or two.) (This writer is long FL.)

Joe's final trade was FB. Weiss said AAPL. Pete bellowed that Weiss used to "hate" AAPL. Doc's final trade was MOS. Pete said 50,000 JCP February 3 puts were being bought.
[Monday, Aug. 14, 2017]
AAPL can't buy SNAP because the name 'Snapple' is already taken
Monday's Halftime Report, a most turgid (and seemingly endless) exercise, was nothing more than filler before expected remarks from President Donald Trump.

But it was certainly noteworthy that, a couple business days after Howard Marks mocked someone on the panel (hit PgDn a few times), Jim Cramer (who has his own program(s), but whatever) right off the bat took a crack at Marks' "Memo."

"I just Googled 'Howard Marks bearish' and picked the year 2010. And up comes his May letter," Cramer said.

Cramer said that time was the "ultimate" time to buy JPM.

But, "I'm not picking on him," Cramer insisted.

Meanwhile, Jon Najarian said of the VIX, "You don't make money trading anything else that fast," but he clarified a couple times that it's the "deep end of the pool."

Doc clarified that he's not saying that Stephanie Link was responsible for the "exaggerated" VIX spike last week.

Doc said TGT's Grand Junction deal "could be a game-changer."

Doc also said November 125 calls in VMC were popular. Pete Najarian said TER October 36 calls were popular.

Judge said he looked twice at the Barron's article on NFLX to make sure it wasn't written by Pachter.

Doc claimed his SNAP (snicker) calls were "workin' out so far today."

Stephanie Link's final trade was DXC. Doc said DLTR as MCC got some makeup touch-up, Pete said NVDA and Jim Cramer said ATVI.

Judge asked Meg Tirrell for thoughts on Ken Frazier's exit from Trump's council, given that Tirrell has "looked him square in the face."

Tirrell pointed out that Frazier "exonerated" (sic verb; lawyers don't exonerate) a man 2 decades ago "along with a team of volunteer attorneys from death row (sic misplaced modifier)."

Jim Cramer suggested Donald Trump had a "great opportunity" to admit he was "a bit intemperate" (snicker).
[Friday, Aug. 11, 2017]

Pete's SNAP-to-single-digits prediction might be Call of the Year
Folks who have invested in shares of SNAP hopefully have gotten beyond it emotionally if not financially (that was the case here, except we wish the latter had happened before the former). (This writer has no position in SNAP.)

Anyone holding these shares no doubt has had enough of the typical CNBC refrains about OMG THAT Q1 WAS BAD!!!!! or THE GROWTH WAS ALREADY DECELERATING!!!! while hoping there's something to Mark Mahaney's 31 (multiple snicker) price target or Dave Tepper's declared interest around 18.

But nothing stands out for accuracy like Pete Najarian's assertion starting in mid-June that SNAP is going to see single digits.

Over the course of time, that's not a hugely shocking prediction. Even GE was $6 a while back.

But Pete's call was more immediate. You could quibble a bit with the lack of a time frame (he said "at some point" as well as "after the lockup"), but hanging this kind of target on a very recent IPO … and seeing it on the verge of validation barely into August … is some big-time stock picking.

It'll be tough to beat.
Judge says Zuck and Sheryl have 'a lot more bullets' in their hands to take down the Vito Corleone of social media, Snapchat
Ross Levinsohn told Judge on Friday's Halftime that SNAP had a miss "on every key metric."

But, "On the flip side, I'm actually encouraged."

"The user engagement numbers were really good. People under 25 are spending 40 minutes a day," Levinsohn asserted.

He's also encouraged that "RPU more than doubled over a year ago."

Levinsohn invoked cinema legends to explain how SNAP has supposedly fended off FB. "I'm a fan of 'The Godfather,'" Levinsohn revealed, noting that Don Corleone was shot a half-dozen times, "and he didn't die."

Judge said Zuck and the people at Facebook "have a lot more bullets, um, in the chamber, um, and in their hands to use, do they not?" Levinsohn said, "Well, they do for sure." Levinsohn said Facebook's relentless attack on SNAP "means to me that they're worried."

Kevin O'Leary said there are "2 things" that make SNAP intriguing (snicker), one of them being, "they've added 7 new geographies," although the app doesn't actually work in some of those countries, and he never explained what the 2nd thing is, except it apparently is the potential to improve the company's conference calls.

O'Leary said Evan Spiegel's call was "horrific" and that "he really needs adult supervision."

"The reason the stock is getting slaughtered, 50% of it is he just pissed a whole lot of people off yesterday," O'Leary said. "I think it's gonna go single digits. And half the problem is him on the conference call."

Levinsohn said that's "super fixable." (Sure. When this bucket of garbage is $4.)

Steve Weiss said he owns SNAP puts and is holding onto them. "The fact that Facebook didn't kill them doesn't matter," Weiss said. "OK. They're not gonna die in a quarter or 2 quarters. I've got a management now that I can't trust."

Weiss mentioned "corporate governance issues." Judge said, "The problem is, is that their user metrics were going down into the IPO." Weiss said, "I don't think they would've been able to come public if they didn't do it then."

Of course, Judge skipped over that last comment, even though this whole debacle suggests the worst Wall Street tech scheme since 2000.

Jim Lebenthal said, "Unfortunately you're just not gonna see the growth ever from this."

Weiss said SNAP is not even in the "top 10" of things that worry Zuck and Sheryl Sandberg.
Value investing back in vogue (cont'd) (a/k/a What happened to the argument about JCP debt yield not nearly as high as that of SHLD (and the great cash flows))
Judge announced on Friday's Halftime that JCP just hit a 45-year low.

"I'm very disappointed in this result," said Jim Lebenthal. "Clearly I've gotten it wrong … This stock for the immediate term is not gonna go anywhere."

Jim said JCP needs "very strong" back to school results (Judge interrupted to say JCP says it's off to a "strong start") and that the new CFO "has got to come out of the shed and start communicating about things that are going right." (Funny, that's the same argument Ross Levinsohn made a couple weeks ago (not Friday) about SNAP … see where we're going here?)

Judge said of JCP, "Their guidance is as, you know, wide as the Atlantic Ocean."
Howard Marks actually doesn't think anyone should get out (apparently)
Doing the 1-man good cop/bad cop routine again, Judge on Friday's Halftime claimed the volatility move is "sort of stunning."

But minutes later, he basically admitted that "if the situation with North Korea (snicker) doesn't get any worse," it's hard to make a case to get out of the market.

Jon Najarian said he'd stay the course and said people putting on "ratio spreads" on the VIX had been getting more aggressive and thus were "throwing gasoline on the fire."

Doc tried the latest round of paraphrasing elite guests, explaining that "Mr. Marks" was saying, "I'm not saying get out." (Even though Judge spent an entire week trumpeting that Marks was saying better to get out early than late.)

(But now, he's not actually saying get out.)

Gearing up for a pullback, Jim Lebenthal declared, "I've got dry powder. I sold some stocks earlier (sic redundant) this week."

Stephen Weiss said, "I got rid of some lower-conviction stocks."

Kevin O'Leary refused to bite on Judge's suggestion that many names are steeply down from recent highs, many of them in one sector. "There's all kinds of this overhang in retail," said O'Leary, calling Lee Cooperman "non-committal."

"I'm a bull going into the back end of the year," said O'Leary.

O'Leary said he likes JNJ, AAPL and even XOM and even took a stake in GE; "I think activists are gonna tear it to pieces."

Kate Moore, who looked great in white, said she would "absolutely agree" with Howard Marks that things are pricey across the board.
Shocker: Avoid APRN
Kevin O'Leary on Friday's Halftime said he owns WMT because it's the "anti-Amazon name."

Jon Najarian said the border tax (snicker) if it had happened could've stuck it to WMT, but, "I think this thing continues to work."

Doc said September 57.50 NCLH calls were popular.

Asked to recall some recent trades, Doc said he bought WYN September calls for about a buck-45, buck-50, but sold for "I think a dollar 30, dollar 35." But he said he bought MAR calls around $1.55 or $1.60 and got almost $3.

Doc said defense stocks' gains are obvious.

Steve Weiss said GS and others need rates to go up but he called it a "great story."

Jim Lebenthal said to avoid APRN and called it "very dangerous."

Doc said that in Europe, "A lot of folks over there are nervous."

Jim Lebenthal's final trade was FEYE. Doc said RDUS based on buying of 40 calls. Weiss likes BABA. Kate Moore said EEMA.
[Thursday, Aug. 10, 2017]
Howard Marks calls out Halftime panelist who mentioned 'sell point'
Judge on Thursday's Halftime Report turned up at Post 9 with none other than Howard Marks, who critiqued the coverage of his Memo on the Halftime Report a couple weeks ago.

Marks said he was watching from Bogota, Colombia. "There was one guy — he's not here today — and one guy said a couple of things … I still haven't gotten my head around," Marks said.

"One guy said, 'The market is expensive, but I'm holding, until there are a couple bad days.' I haven't figured out what that means yet," Marks said. "And he also said, 'I have some- I have stocks that have exceeded my sell point, but I'm not selling.' And I haven't figured out what that means. What is it. What is a 'sell point.'"

We don't have the original quotes in our log (hit PgDn until you get to July 27), but given that it's a panelist who was not on the show Thursday, we're 99.9% sure Marks is referring to Jim Lebenthal.

We're not sure about the "bad days" comment. But "sell point" doesn't sound loopy.

It's always possible that someone hears something on one program and thinks it was on a different program, etc. But we're pretty sure Marks' recall is solid here because he added, "There was one guy, (Grandpa) John Fichthorn, I loved what he said. He said he wanted to copy the memo and send it out to his clients. He has my permission."
This time the term 'pyramid scheme' doesn't come up
Howard Marks on Thursday's Halftime Report affirmed, "I don't understand what's behind bitcoin."

Josh Brown told Marks he "should sit with Marc Andreessen for, for an hour" and that it's too early to be "doctrinaire" on bitcoin.

"This is not a spending currency. This is a trading currency," Marks said. Josh Brown and Pete Najarian agreed it's "not a currency." Joe Terranova asserted it's a "commodity."

"I can't see any intrinsic value," Marks said, adding he also thinks gold has no intrinsic value.

But Josh Brown asked a good question: "Is there intrinsic value in the dollar," or is it valuable simply because of the utility. Marks said it's clearly the latter; "there is nothing behind the dollar anymore other than the full faith and credit of the U.S. government, whatever that means."
'I wanna see the VIX rise'
Howard Marks on Thursday's Halftime said he was compelled to issue The Memo because, "I just accumulate things over time," and, "eventually they, uh, accrue until there's enough to, to, to make a, to have meaning."

The walkback didn't take long, after Judge said Marks has a "gravitas" ensuring that such a memo would "set people off."

Marks first protested that he's being misquoted.

"Somebody even said on TV, 'Howard Marks says it's time to get out,'" Marks complained. "First of all, there's 2 things I don't say: Get out, and it's time. Other than that, the guy was right. Uh, because, uh, nowhere does it say get out, and I certainly don't claim to, to say that this is time. All I'm saying is that prices are elevated, prospective returns are low, risks are high, people are engaging in risky behavior. Now, nobody agrees with any of the 4 of those. And if not, then it seems to me that this is a time for increased caution."

But what about that whole better-early-before-it's-too-late thing?

Marks said his approach is, "It's maybe in, but maybe a little less than you used to be in. Or maybe in as much as you used to be in but with less risky securities. That's all I'm saying."

OK. So just carry "a little less" risk than before. (Because we're timing a major pullback here, and you want to be early rather than late.)

Judge asked, which cracks first, bonds or stocks.

"Probably bonds first," Marks said. "But I have very little faith in that opinion."

"There's nothing that's cheap today," Marks said, explaining, "I didn't hear anybody say it's underpriced."

Marks said P.E. ratios are in the "high part of history."

He said we're in a bond bubble but not a high-yield bubble.

Marks told Judge, "I think the biggest risk is that, is the, is the fact that the prices are high, and investors are euphoric. Not euphoric. But optimistic."

Joe Terranova told Marks, "Over the last couple of years, investors have shunned equities and replaced it with high yield."

Marks said, "I think credit is expensive," before going on to say that bonds are a "contract," and there's no such contract with stocks or dividends.

Addressing a dubious subject out of the blue, Pete Najarian stressed that Jeffrey Gundlach this week was "talking about 3% — or more. It wasn't 3%. It was 3% or more of a pullback."

Marks is on board this bizarre VIX bandwagon. "I wanna see the VIX rise," Marks said. "I wanna see not a string of, of unmitigated advances."

So we're back to the Vietnam Market, want to see it go down so that it goes up.

But Marks said he agrees with Lee Cooperman and Jeff Gundlach that there's no recession "anytime soon."

Marks credited Judge for inspiring him to appear on the program. "I came because you did a good job post-Memo, and I'm glad to be here," Marks said.

"This was the talk of Wall Street," Judge decided at the top of the show.
There's at least one person 'extremely happy' to work for Wells Fargo
In the non-Howard Marks portion of Thursday's Halftime, Judge congratulated Mike Mayo on joining Wells Fargo.

Mayo said he's "extremely happy in Week 6 at my new firm, and we are positive on the banks long term."

Mayo apparently thinks C can double in 4-5 years. Judge haggled with Mayo over making a call of a double while claiming the restructuring isn't done. Zzzzzzzzzzzzzzzzzzzzzzzzzzzzzzzzz

Mayo's presence bumped Joe Terranova off the desk.

Judge asked Mayo why he doesn't agree with Dick Bove's assessment of GS. "We've seen this movie before," Mayo said, pointing to Morgan Stanley, July 2012.

Jon Najarian said he's "tempted" to do "a little bullish stuff" in NVDA because he doesn't think the options market is pricing in enough move. Josh Brown noted he's been in the name since 50 last summer.

Doc said he's getting back in to SNAP calls for earnings; he's expecting a good report. (How'd that work out when he trumpeted SNAP call-buying in April and May?) Josh Brown said, "I'm not expecting a good report."

Jeff Kilburg suggested 1,400 gold is possible "if we see some type of missile actually launch." Otherwise, gold is range-bound. Jim Iuorio said settling above 1,310 would indicate a new breakout.

Pete Najarian's final trade was C. Joe Terranova, who again got limited time (we want Joe to opine on Weiss' no-long-lines-for-ideal-retail-experience comment), said AAPL.
[Wednesday, Aug. 9, 2017]
Weiss suggests some more channel-check opportunities
for Jim
Stephen Weiss on Wednesday's Halftime jabbed Jim Lebenthal about doing a "store check of women's (sic redundant) lingerie again."

Jim said he talks to "checkout clerks" who say things are getting a lot better and that "there are lines at the checkout stores (sic terminology)."

Weiss offered maybe the most intriguing comment of the day, stating, "That means to me they're understaffed. And a good retail experience never has a line at a cash register."

Interesting point. It's true, a consumer would certainly prefer to shop at a place without a line at the register.

On the other hand, 1) virtually no semi-popular retail location offers such a situation, and 2) knowing that, retailers are savvy about loading up the counter with potential impulse items that are probably more likely to be bought the longer the customers stand in line.

Weiss expresses an admirable goal. But it's fantasyland.
Panel not terribly impressed with Jeffrey's surefire December S&P puts
Jeff Gundlach is a brilliant guy who has made many great calls, but honestly, we were laughing off his highly unconvincing or even loopy I'll-be-disappointed-if-I-don't-make-400%-in-puts-that-score-huge-if-the-S&P-just-falls-3%-by-December call on Tuesday's Halftime that sounds like it came straight from How We Trade Options.

On Wednesday's Halftime, Pete Najarian translated Jeffrey's comments (without touching the whole Death Valley thing), stating, "He's just saying in general, when you have volatility this low, sooner or later, that's gonna percolate into something, and I agree with him a hundred percent."

We gotta think Death Valley doesn't care much about the VIX in summer 2017, but whatever.

Josh Brown said that for the panel to debate whether stocks can fall 3% "probably is not a good use of time." (As opposed to all the other things they talk about that supposedly are a good use of time.)

Erin Browne said she would "question the math" of Gundlach in which just a 3% drop would send the VIX soaring to 20; "it's probably gonna pop up to 15 or so."

Judge played host defender, stating, "3% was the number he threw out, but he did say 'Or greater.'"

Steve Weiss stated, "I heard him say that he can't lose money on 'em. Of course you can. That's, that's ridiculous, and I'm surprised Jeff would say that No. 1, 'cause he's a brilliant investor. And those are Black Swan puts."

"Well I think he's making a point Weiss that, that he sees it as a sort of a can't-miss trade," Judge felt compelled to say.

Weiss made another quality point, stating, "Why is everybody so concerned about volatility. Volatility in my mind does not equate with risk. Volatility equates with opportunity."

Josh Brown said investors shouldn't be "playing Mad Libs."

Jim Lebenthal explained why he's glad he got out of stocks that kept rising (usually it's BA), such as TIF and MPC.

Judge said, "You could make a clear case that today is a (sic grammar) extraordinarily positive and resilient day for the stock market when you have the highest level of saber-rattling from a rhetorical standpoint (sic last 4 words redundant) in a generation."

Pete said Gundlach is trading e-minis because they trade for 22 hours a day, then Pete mentioned Carl buying the election night dip (but how did that "Day of Reckoning" turn out?).

Pete also said a bunch of GLD calls were bought.
How come there was nothing about, 'Oh, there's another "Star Wars" movie that the Street hasn't priced in'
Todd Juenger spent most of his time on Wednesday's Halftime shrugging and chuckling as to whether DIS is any good.

Juenger said he wouldn't call DIS' move a "Hail Mary" but proceeded to parse even more than Bill Clinton in his finest hour.

"Is this desperation or not?" Judge demanded.

"Listen, I think the situation is desperate. Uh, I'm not gonna take the bait and call Disney desperate," Juenger said. "They need to proactively (sic redundant) try and take their destiny in their own hands."

Ah. That's the strategy.

Juenger described himself as "aggressively neutral" on DIS shares.

As for ESPN, Juenger said, "We believe there are still 10, 20, 30 million U.S. households paying for that service who don't really want it."

That was his most significant comment by far, evoking memories on this page of Jeff Macke pointing out that unused gift cards are gold; "it's like selling air."

Judge demanded, rightly, whether DIS is "investable" right now. "I think you probably wait," Juenger finally said after talking about people running into him on the street and recognizing him.

Stephen Weiss said none of these names are investable and said "I'm sorta glad I sold Netflix."

Josh Brown rightly questioned if the consumer wants "30 different apps" to get all of their favorite TV shows and movies. Karen Finerman, in phenomenal new straight hairstyle on the 5 p.m. Fast Money, indicated people won't have 40 apps for TV programming.
Expect Howard Marks to do the Robert Shiller routine, 'I didn't say this is GOING to happen; I said it's possible …'
Pete Najarian on Wednesday's Halftime Report laughed off SBUX's problem as a "mosh pit" that turns into a "complete mess."

Judge said, "It seems to be a bigger issue though Pete than efficiency of mobile ordering."

Pete said, "I think that's a big portion of it."

Stephen Weiss questioned why SBUX isn't regarded as just another restaurant/coffee shop. "I don't think the brand in coffee matters all that much," Weiss said.

Jim Lebenthal said he agrees and said he likes DNKN better because it's got the "whole western half of the United States," a line we've probably heard a couple dozen times on this program.

Pete said PSX September 82.50 puts were being bought. "It could be" protection, Pete said (and when is that ever not the case), but this time, God forbid, it might be a bearish bet.

Pete said there was "absolutely nothing positive" from the ODP report.

Josh Brown said WEN is doing great for 3 years and outperforming MCD.

Weiss said he wouldn't buy MYL.

Jim Lebenthal said TRIP is in a tough space in which the names are "cannibalizing" each other.

Erin Browne still likes EEM on a weaker dollar.

Scott Nations said gold is still in a "sideways channel," and it's not interesting until 1,292. Anthony Grisanti said the "North Korea stuff" is "not gonna end overnight," and he'd be long gold.

Pete's final trade was AAPL. He predicted it will "explode to the upside." (But oh by the way you should buy gobs of protection on the VIX because that's so low that it's probably going to skyrocket once German bonds start going up.)

Weiss' final trade was MU.

Erin Browne said that "if you're concerned about North Korea, short Japan, EWJ," but not Korea or the S&P 500. (But the EWJ is not going up or down based on how Joe Viewer feels about Jong Un.)

Josh Brown said to buy the dip in ALB. (We were wondering why Judge was avoiding that one.)

Jim Lebenthal suggested JCP.

Judge promised Howard Marks on Thursday's Halftime.
[Tuesday, Aug. 8, 2017]
Jeffrey Gundlach does not opine on Bill's board battle at ADP
It got better the longer it went.

But it wasn't exactly rip-roaring television.

Jeffrey Gundlach on Tuesday's Halftime Report said Donald Trump deserves "very little" credit for the year's stock market performance.

"The previous president did very little in recent years but was quiet about it. The current president is getting virtually nothing done; he's very noisy about it," Gundlach explained.

Gundlach hilariously referred to Jim Cramer's "they know nothing!" rant by pointing out it involved "Erin with the giraffe dress."

Much of Gundlach's commentary centered on the VIX. He called the shorting of the VIX one of the "manias" out there, and given that, there could be a "really big kind of shock higher." (He also drew an analogy between high vol/low vol and Mount Whitney being next to Death Valley.)

He said he's predicting volatility because "the markets have been coiling so much."

He said the copper/gold ratio is at a 12-month high, for whatever that's worth. (And to think he didn't mention that Robert Shiller's CAPE or whatever it is ratio has only been this high twice in history, in 1929 and 2000.)

Gundlach contended, "The German 10-year has no business being at 50 basis points with U.S. 10-year up at around 2.3%."

Judge correctly and impressively summarized Gundlach's apparent point as "a bond yield-initiated stock correction."

Gundlach conceded there's "no evidence of a recession in the United States or globally."
Was it 5 directors or 4; 45 days or 1 week; he knows he's welcome to appear on the show and make the case to anyone who's interested ...
In a clumsy, obviously pegged to whenever Jeffrey Gundlach could go on the air opening, Judge asked Tuesday's Halftime panelists to kill time gushing about how great Jamie Dimon is.

Josh Brown made his usual JPM-to-100 refrain.

Joe Terranova said he's staying with MS, BAC and V.

Stephanie Link said "everybody" owns Morgan Stanley.

Jim Lebenthal said KORS and RL had a great bounce but are still "well off of where they were 1 year ago," however, he said it bodes well for retail.

Josh Brown said he's long BMY for reasons other than takeout.

Stephanie Link called FL risk/reward "pretty good" but noted "they're still tied to the malls" and said she'd "rather own Nike." (This writer is long FL.)

Joe said the VRX CEO is sounding more confident, but he seemed skeptical that the stock is going to 25.

Bob Iaccino said oil's in a "classic downchannel."
[Monday, Aug. 7, 2017]
Trump suggests Lee got railroaded for criticizing Barack Obama
Monday's Halftime Report featured Lee Cooperman, relaxed and seemingly relieved to talk about something besides the SEC.

Sort of.

Lee said Judge's first question, Why is he speaking out about Ackman's ADP interest, is a "good question."

Lee said he's no longer in ADP — then reverted to his typical refrain.

"I made a mistake. I gave all my stock to charity," Lee said. "Should've given cash because the stock has almost tripled in the 5 years that I'm off the board."

Here's the deal:

Giving money to charity is wonderful. No argument here.

But Coop brings up this endeavor during every appearance.

We have no idea as to the seriousness of the recent SEC allegation/settlement or what really happened.

But when Lee constantly mentions charitable donations and commitments — even pointing out how, if not for the case, he could've paid for college for a lot more kids — it sounds like he's trying to buy leeway, whether in legal matters or the court of public opinion.

Later in the program, it was clear Lee's not done analyzing the SEC case.

Cooperman said he was invited to a White House dinner with Donald Trump (hopefully nobody leaked that around the Moochmeister), who told him 3 times, "'You have an outstanding reputation' … and he asked me if my problem with the SEC was occasioned by my open letter to President Obama 5 years ago. I said I had no idea if it was or wasn't." (This should've set off alarm bells for Judge and prompted a question as to whether Lee is alleging First Amendment persecution, but Judge took a called strike 3 and asked nothing of the sort.)

Lee said that however the case came together, "They were abusive and wantonly destructive in what they did."

Lee admitted to Judge that aside from market/economic issues, "You worry a little bit about the White House," even though he found Trump accommodating. "He could not have been a more gracious host," Lee said, explaining that after dinner, guests got a personal tour of the Lincoln Bedroom.

Lee said he told Trump the best thing Trump could do is "unify the public" (snicker).

Lee claimed that if Hillary Clinton were elected, "The odds favor the fact we would've been in a recession today."

Lee said if Trump walked across the Potomac River, "The press would probably say, 'Donald Trump can't swim.'"
Did Ackman want 5 directors or 4, 45 days or 1 week, why didn't Judge know the breakdown of the derivatives stake, etc. (Bill is 'welcome' to appear on the show) (it would be kind of funny if Bill came on to opine about the SEC)
Lee Cooperman dove head-first into the ADP showdown on Monday's Halftime, stating, "I know and respect Bill Ackman … Notwithstanding, I consider his behavior to be in this instance somewhere between foolish, inappropriate and irresponsible."

Lee said he was "somewhat incredulous" when he heard about Bill's move.

Lee was given more than ample time to rattle off all the stats showing ADP a "phenomenal" long-term enterprise and question who'd defend Bill here.

"I'll be very disappointed in the money management profession if he got support," Lee said.

In a dig that now Judge even says people shouldn't focus on, Lee said one thing he could tell Ackman with a sense of humor, "This won't be another Valeant."

How did Lee and Bill's communication go down? "I don't wanna dis-, you know, disclose any confidences, but he called me first," Lee said, stating Bill wanted the delay in the nomination window. (How long, we have no clue; Judge couldn't shed any light on that Monday.)

"He's gonna lose the proxy fight; can't imagine any, you know, serious shareholder supporting him," Lee predicted. "It's all part of this new wave of activism where hedge funds are trying to make their own luck."

Judge said Ackman says this is a "similar thing" to Air Products and Canadian Pacific. "It's not a similar thing. It's not, please, it's not," Lee insisted.

"This is a mistake," Lee asserted, before knocking Bill's request for the as-yet-unsettled amount of deadline pushback.

"Either finish your work in time … or be a gentleman and wait for the next year's nominating committee to be open," Lee said. "They were right in not delaying."

Kevin O'Leary, on the panel this day, called ADP an "amazing story." But he told Lee, "I think your criticism goes beyond Ackman." O'Leary said that Ackman has a point to make, and, "I want to hear it."

O'Leary added, "I made a lot of money with this guy on CP."

"How'd you do in the other … names," Lee cracked.

"I understand that," O'Leary said.

Lee claimed with a straight face, "The company's happy to hear" Ackman's point of view, but the issue is, do you ask the company at the "last minute" to delay something in the bylaws.

Stephen Weiss said the reason Ackman is doing it is, "Here's a guy who needs a win," and in this particular fight, the "downside is extremely limited."

"It's beyond me why anybody would follow him into a stock at this point," Weiss added.

Weiss claimed at least one confab with Bill, mentioning JCP; "Bill and I have talked about that."

Josh Brown said Bill wants a nomination delay because his position's in derivatives (Judge still hasn't straightened that out), and "the clock is ticking." But Weiss pointed out Ackman made a long-term play in HLF with derivatives.

O'Leary insisted that Ackman has told shareholders there's 40-50% more in the gross margins, and that's why, "I need to hear his thesis."

Later, O'Leary speculated that Ackman will come out and say "that he can use AI and machines to cut 50% of the employees."

"I'm hopeful that he will come sit with us," Judge said, without a whole lot of conviction, adding that "Bill knows this, that he is welcome here to make his case, um, directly, uh, to you all watching, to us and to Lee himself and anybody else who frankly, um, is interested in all this." (Which basically covers the whole world.)

Lee said that unlike Carl's approach to Bill, "I happen to like him."

Regarding ADP, Lee said if he had to make an investment decision, "I probably would short the stock rather than go long."

Weiss likened Ackman's initiative to Weiss' view of AAPL. "I think Tim Cook could do a lot better job," Weiss said. "It's the same thing."
Lee points out Doug Kass is 'not on the show anymore'
Judge on Monday's Halftime mentioned Howard Marks' "much-talked about Memo." (1) He's the only one talking about it; 2) This usually lasts about 4 trading days, then you never hear about it again.)

Lee Cooperman said, "I think the market is fully valued on a fundamental basis," suggesting 4% nominal growth.

"I don't see euphoria," Lee said.

Revisiting a CNBC bureaucratic wound (that viewers don't know about), Cooperman told Judge that Doug Kass "used to be a, a compatriot of yours, not on the show anymore."

Yep.

"There's no signs of recession," Lee said.

Judge made Marks' argument about being early than late. (In other words, it's best to sell as high as possible and buy as low as possible.)

Jim Lebenthal, given a chance finally at the 30-minute mark, suggested a "whiff of fear" could actually topple the "animal spirits" of this market. Lee Cooperman said he "totally" disagrees with Tom Lee suggesting FAANG will lead the market … to a lower S&P target than what it's at now.

Lee touted GOOGL but admitted it's "owned by everybody." He also likes FDC. Lee said he's got NBR and HES and WPX.

Josh Brown asked Cooperman about retailers. Lee said it's "Very situationally oriented … there's no question that retailing is challenged."

Lee said that Warren Buffett would likely say that if interest rates stay here, stocks are not expensive.

Kevin O'Leary tried to get Coop to trash regional banks; Lee said, "Are we talking banks or are we talking energy because you're confusing me."

Lee said, "You've seen the low in energy prices."

Lee predicted a 50-60 price on crude by year-end.

Josh Brown trumpeted NVDA's all-time high. He also trumpeted ALB.

Judge mentioned Paul Singer and his "devouring capitalism" fear of passive investing. Lee Cooperman called that an "extreme statement."

Lee questioned why banks and others got blamed in 2008 and not the people who decided to "overlever themselves."

Judge said Jeffrey Gundlach will be on the show Tuesday.
[Friday, Aug. 4, 2017]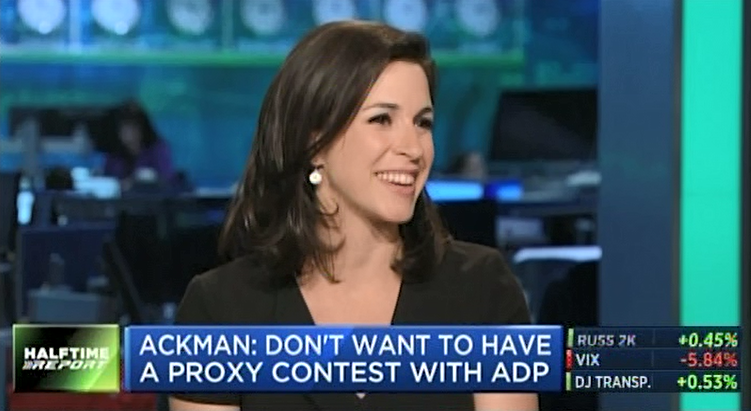 Judge says if you remove VRX and HLF, Ackman's had a great 12 months (and that Ackman would like a 'big winner')
Judge on Friday's Halftime said he just got off the phone with Ackman, and that Ackman was buying ADP as recently as Friday morning and was planning to introduce a board slate of 4 or fewer and that he's seeking only a 1-week filing extension.

Judge said Ackman claims to know ADP's CEO Carlos Rodriguez "quite well" because they went to Harvard Business School together. (But they must not have been on the rowing team together.)

The interview was recent. "I literally hung up with, with, um, Mr. Ackman 2 minutes before the show started," Judge said.

Stunning and gorgeous, Leslie Picker evaluated Judge's comments about Ackman and stated, "It sounds like based on your conversation with Mr. Ackman that the company's, uh, perspective is a bit different than Mr. Ackman's perspective."

Picker said that according to the company, Ackman asked for a 30-45-day extension so he could nominate 5 directors.

Judge said it was "kind of a smackdown sort of press release that, that they put out." Picker said you often don't see companies "superseding" activists by issuing the first press release.

Picker said it sounds from Judge's reporting that Ackman and Carlos Rodriguez have a "long-standing relationship."

Josh Brown questioned how Ackman could gain 4 board seats "through mostly derivatives." Judge admitted, "Frankly I don't know the breakdown of the stake."

Judge said Lee Cooperman, who sat on ADP's board "for 20 years, nearly that," sent an email to Ackman questioning this move and stating ADP has done a good job for shareholders.

Doc rambled into a clumsy explanation of a question nobody was asking; might we see footprints of Ackman's move in the options market.

Leslie Picker opined on Ackman's move. "As a long-only play, there's very little downside here," Leslie said.

Picker mistakenly said that "if you're gonna put money into something, you're gonna want it to have very little (sic) downside protection," adding that it's "clear" that this is "a pretty safe investment, um, relative to others that he's been pushing for."

Judge said, "If you sort of remove Herbalife and you remove Valeant from the picture, the other stocks that he has in his book have helped him do well over the last 12, you know, calendar (sic redundant) months."

Taking up Bill's PR cause, Judge said there are "haters who always focus on Herbalife and Valeant." (He didn't even mention JCP.)

Judge added that "of course he would like a big winner. Not just a winner, but a big winner." Really. You don't say.

Picker said companies are "building up their war chests" to push back against activists in 2017 as opposed to 2016, when more settlements were reached.
Doc: Competitors post negative reviews of rival restaurants on YELP (By the way, Pete informed viewers a day ago of 'huge put-buying' in that stock)
Friday's Halftime Report pronouncement that the stock market's all clear came from Jim Lebenthal, who stated, "I'm all in right now. I'm fully invested as a U.S. equity portfolio manager" (sic last 6 words redundant).

Jim said when August "goes off the rails," as Art Cashin and others have suggested this week, it's typically been in the 2nd half of the month.

Erin Browne said U.S. rates will remain "abnormally low unless we get a real inflation spike."

Judge asked Josh Brown to "tackle" the Paul Singer comments on passive investing. Josh said there are "2 pieces of irony" in Singer's statement and concluded, "Capitalism is alive and well." Judge impressively noted that Jeffrey Gundlach was talking at Sohn about the S&P 500 being actively managed.

Jim Lebenthal said Singer (he said "Elliott Singer," but Judge corrected it) is talking about a "distinct subset" of active management, namely the activist space, and that it's hard to be an activist when the top holder on so many companies is Vanguard.

Jon Najarian said he uses YELP a lot, "even despite the, uh, some of the bad reviews that you see on there that appear to be placed uh by the competitors of other restaurants and things like that."

Jim Lebenthal wondered if he's the only one who notices that YELP trades at 200 times next year's earnings. Josh Brown said this sector "trades on revenue growth and, and user metrics." Jim wasn't allowed to push back.

Doc said there was "huge … massive" buying of SNAP August 15.50 calls and then 15 calls. (Remember how well those tips worked before the May earnings when the stock was 23.) Doc actually was sort of gushing about this stock, stating, "I think this is all kinda behind these guys now and the stock's ready for that big upside move."

"They're not gonna miss twice," said Josh Brown, who later said he thinks the stock goes lower, and then he'll want to buy it. We wouldn't be surprised by a bounce, maybe up to the IPO price, but Mark Mahaney's 31 (he says that on CNBC with a straight face) is fantasy island.

Jon Najarian said someone bought September 250 calls in GS.

Josh Brown said it's "outrageous" that APRN, shortly after going public, is laying off about a quarter of its staff.

Jim's final trade was Royal Dutch Shell. Erin Browne said the XLI, and Doc said LITE.

Mel revealed on the 5 p.m. Fast Money, "I do check Rotten Tomatoes."
[Thursday, Aug. 3, 2017]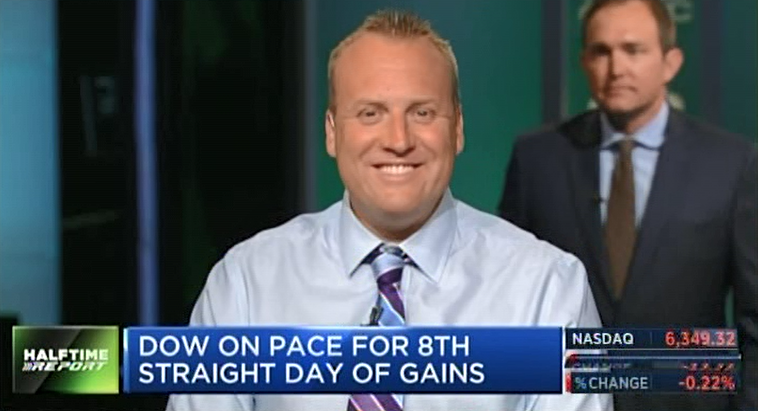 Who's funnier: Sully or Judge?
Thursday's Halftime, which somehow survived a clunker of an opening on whether the U.S. market will play "catch-up" to others (Why they couldn't talk about Anthony Scaramucci or O.J., we have no clue), produced a consensus thumbs down on buying UAA.

Pete Najarian said "the big issue" to him for UAA is its commitment to footwear; "that's where they got hammered," and the valuation is still extremely high.

Josh Brown and Sarat Sethi said there's no rush to pick the bottom of UAA; wait for it to start breaking out. Jon Najarian said we haven't seen people selling UAA with both hands yet.

Leslie Picker said Andrew Hall is closing his main Astenbeck hedge fund. (That's the guy who had the bonus controversy in the early days of Fast Money, and Guy Adami declared, "PAY THE MAN HIS MONEY!!!") Picker said Hall is "just the latest victim among, you know, wrong-way bets in the energy market."

"He's blaming algorithms," Josh Brown said.

Jon Najarian took a victory lap on TSLA August 320-325 calls.

Doc stressed that PVH is just brands, not brick-and-mortar stores, the 6th or 7th time he's made that point.

Doc said people were buying September 105 WYN calls. Pete said November 34 YNDX calls were popular.

Josh Brown said SQ "bigger picture" looks very strong; he wouldn't give up on the name.

Jon Najarian said to stay away from TEVA for a while.

Sarat Sethi said he's going to buy LB. (We think Dana Telsey was touting it in the 60s or 70s a while back on the show.)

Pete said AAPL is making things very difficult for FIT.

In the Zzzzzz portion of the program, Josh Brown said "1st-level thinking" was assuming you had to be in the U.S. because of Trump, while "2nd-level thinking" was taking advantage of markets such as Mexico.

Tony Dwyer has an Aug. 2 note stating "signs the correction has already begun," citing the Russell 2000 breaking its 50-day on Wednesday while the Dow made an all-time high.

Pete Najarian said names such as PEP are absolutely beating Europe.

Dwyer said 5 of the last 7 years, we've had a negative August. Judge said, "So what?"

Scott Nations said gold "is all about the dollar." He said the dollar is "way oversold," so gold's at a short-term top. Anthony Grisanti said 1,280 is the next resistance.

Doc said he likes VIAB.

Sarat's interested in AL.

Josh Brown said he doesn't know why he doesn't own ATVI. "It's certainly not late" in this trade, Brown said.

Judge caught Sully mugging for the cameras at the end of the show while practicing for the Power Lunch opening. Judge could benefit from picking up some of Sully's 1-liners, on the other hand, Judge isn't as preoccupied with dispensing wisdom, but both could stand a bit more curiosity.

Josh Brown's final trade was BRKb. Sarat Sethi suggested IAC. Doc said SM.
[Wednesday, Aug. 2, 2017]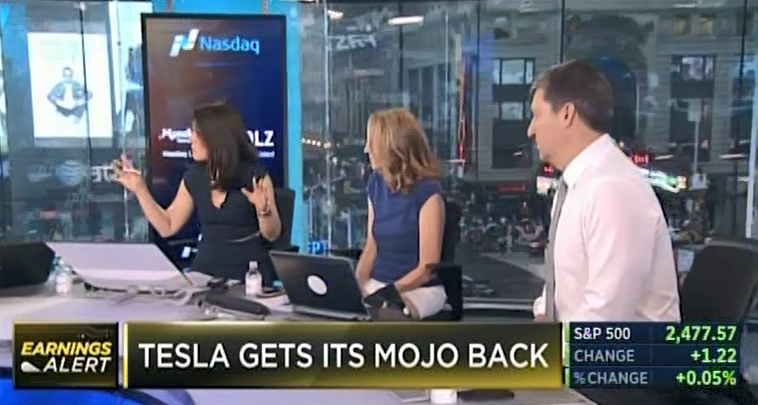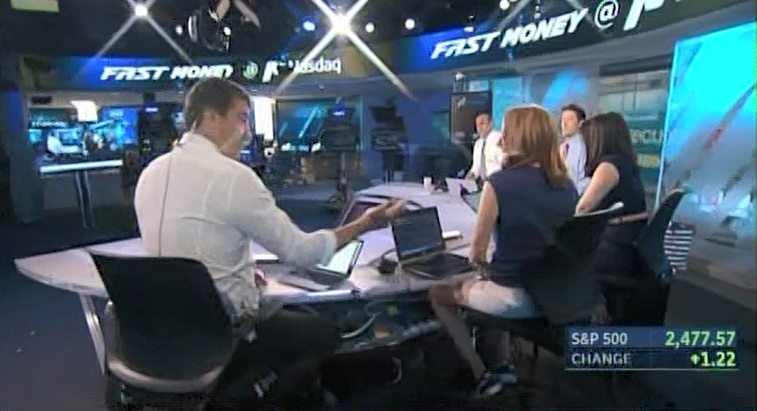 Va-va-voom: Karen in
white shorts, sneakers
Wednesday's Halftime Report produced some interesting commentary from a CNBC legend (no, not Mohamed El-Erian).

Art Cashin said, "Markets tend to top out in the first 3 weeks of August in years that end in the numeral 7."

Well, the last thing we want to do is go against the Artmeister, but the gut feeling around here is that if you base your portfolio this month on such a small sample size, you're a chucklehead.

Jon Najarian said volatility remains low. Jim Lebenthal claimed "there's good breadth to this market."

"It is a stock-picker's market," Jim said.

Stephen Weiss said the bond market's been in a bubble "for a while."

Meanwhile, Doc said the options market was pricing only half the move that AAPL made.

Toni Sacconaghi said "unequivocally," AAPL's quarter and guidance were "much better than expectations." Judge asked if $200 a share is "outrageous." Sacconaghi said no, but "I would caution that the market does look forward."

Judge said Weiss is "arguably the biggest critic" on the show about Tim Cook's capacity for innovation. "Apple TV, where is it," Weiss demanded.

Jon Najarian actually said of WMT/Jet, "This is where I shop for a lot of stuff now. It's not just Amazon anymore."

Weiss said, "I've even bought stuff online from Walmart instead of Amazon."

"I bet most of us on the desk are Prime members," Doc said.

Weiss, Judge and Doc slung the b.s. on adult diapers.

Doc said MAR upside calls expiring next week (unclear what strike price) were popular; he got into the name.

Pete Najarian said AVGO August 270 calls were being aggressively bought. "I think 300's in the cards," Pete said.

Pete said PXD offered "poor" guidance; he said to "stay away" from energy stocks.

Jim Lebenthal downplayed the monthly auto sales report but admitted sales have peaked, though he said they're "plateauing."

Brian Stutland said traders were chasing yields elsewhere in the world. Jim Iuorio said "there's a little more downside" in the dollar.

Weiss' final trade was MU. Jim said GM, Doc said TSLA and Pete said SYMC.

On Wednesday's 5 p.m. Fast Money, Karen Finerman, in chic blue top and … oh my … white shorts that took off 15 years that don't even remotely need to be taken off … said she doesn't know why TSLA won't just "fill the coffers" by raising money at cheap prices.

Karen said she finds GE "kinda compelling. … There's value to be unlocked here."

Karen said AMC's report is movie theaters' "retail moment" and said it's probably not over for mall REITs; "I think there is more bad news to come," Karen said.

Mel brought up the tweet reax to her report from the Sprint CEO and said, "To be clear, I have no personal opinion on this one way or the other. I don't have any opinion on any of these stories that we cover." (Except the other day on Power Lunch, when she suggested the Moochmeister used "bad judgment.")

Karen said that a company such as S can be both desperate and looking for a great deal, but when things like this go on, "things leak," so "stocks become efficiently priced."
[Tuesday, Aug. 1, 2017]
Doc tries to make excuses for Howard Marks' bogus day-of-reckoning-esque warning
Grasping for material, Judge on Tuesday's Halftime actually brought up "The Memo" by Howard Marks early in the program.

Jon Najarian said it's been "6 years since we've seen earnings like this," then later he said that Marks and other giants have to be cautious early because they can't be as nimble as most investors; "It takes a long time for them to get out of the market."

Josh Brown said technicians think August has been the worst month over the last 30 years, though it doesn't always turn out that way.

For flavor, Judge brought in Bob Doll and David Rosenberg. The latter of course said he wouldn't buy stocks here, saying prices have "far surpassed" earnings.

But Doll said, "The drivers are fundamental and pushing us higher."

"Who exactly is doing the buying right now," asked Rosenberg, suggesting maybe emerging Asia is the place to be (if that's true, the U.S. market will do just fine).

Josh Brown told Rosenberg that having 2 instances of a previously higher CAPE ratio isn't enough of a sample size to know that this market will crash. Rosenberg said he's just looking at "classic" P.E. ratios and insisted he's not talking about a "doomsday scenario."

Judge said it was "completely different pictures painted" from Doll and Rosenberg.

Stephanie Link said she doesn't want to "chase technology."

Josh Brown said that if you're just thinking of the general market as "Ooh, it's the Trump trade," then "you're probably losing money."

Joe Terranova said oil is suddenly out of favor again, but the overall market rotation is "favorable."

Joe acknowledged transports are having an "awful" quarter and said transports traditionally have been a warning signal, but he's not necessarily sure they're going to take the market down.

Joe saved his best for last, predicting serious action that no one else seems to foresee in the very near future. "I think the next 6 weeks, this market's gonna shake," Joe said.
Whitney Tilson hasn't been on recently to crow about shorting LL all the way to zero
Judge delved into semiconductors on Tuesday's Halftime.

Jon Najarian said MU has had real issues "in the last week or so," but he thinks the Street is only looking for a "pause."

Josh Brown said the Wells Fargo chip call seems to be more about advocating the cheaper names. Joe Terranova said, "I think the semis are still fine." Joe mentioned LRCX and TXN. Stephanie Link though said she took profits in LRCX and is only in AVGO.

Pete Najarian said he's going to stay in MU, though he doesn't expect the August 34 calls to "necessarily kick in." He said somebody's selling a bunch of September 42 AMAT puts. Pete suggested being in both NVDA and INTC to get the "barbell" effect.

Jon Najarian said there's a lot of put-buying in KSS.

Joe Terranova said MOS is struggling and suggested BG or DAR instead.

Josh Brown thinks there's no reason to get out of PFE.

Jon Najarian said LL had a "fantastic" gain; "this is just a blowout quarter for them … everybody seems to be sounding the all-clear."

Stephanie Link said "people wanted more operating leverage" in CMI, but the story isn't broken.

Jeff Kilburg said crude is pausing. Jim Iuorio said "it's time we pivot" in oil; he's got 40 on the downside but doesn't think it goes immediately there.

Stephanie Link said she sold SBUX. Josh Brown said "the chart's a mess."

Joe's final trade was V. Josh Brown matched that with MA. Steph Link said APD. Doc said TMUS.

Judge promised live coverage of AAPL earnings when they happen.

On Tuesday's 5 p.m. Fast Money, Karen Finerman said she doesn't own AAPL because, "I don't know what the right device multiple is."

"I actually sold some upside calls in Bank of America," said Karen.

We'll be catching up with more Halftime/Fast this week.
In a likely first, Kevin Plank's leadership (gently) called into question
Jay Sole on Tuesday's Halftime stated that "Under Armour continues to be in a state of transition."

Sole said the bear case is that it's a "dying brand," but he disagrees with that.

Judge, who likes to hold up sheets of paper of analyst opinions (most people just read them online now), asked what UA price would prompt Sole to do a "50-pager" recommendation.

Sole said UA needs to get the inventory and receivables under control. Jon Najarian had to pronounce "adidas" 2 ways like they always do on the show for some reason; as for Under Armour, "you see an awful lot of it in discount stores," Doc said.

Josh Brown questioned whether if Kevin Plank wasn't such a star, perhaps people would talk about replacing UA management.

More from Tuesday's Halftime later (it's a busy week).
[Monday, July 31, 2017]
Judge quizzes panelists on best big-bank stock of the year; good thing he didn't bring in Dick Bove for a 10-year assessment
In a curious call, Donald Trump hired Anthony Scaramucci as his communications director Brian Wieser told Judge on Monday's Halftime he rates FB a sell because "it hasn't gotten a lot better in the last 8 months."

Wieser outlined several reasons for his sell, which makes us skeptical, but he made a couple of interesting comments about the "viewability" of ads and the looming "saturation point" for digital advertising.

This page's readers are spared those problems. #free

Stephen Weiss congratulated Wieser for taking a stand rather than following the company higher. But he pushed back on the fundamentals, prompting Wieser to push back on the "viewability" of ads.

Jim Lebenthal said of FB, "if you own it, you continue to hold it." Jim said he doesn't get Wieser's argument that TV is a better way to advertise.

Meanwhile, Judge decided that SNAP hitting a new low constituted "news." And with Ross Levinsohn around, why not. (This writer is long SNAP.)

Levinsohn said the Street is going to be focused on Snap's active users and faulted the company for not expressing a positive narrative. Josh Brown said app downloads are "atrocious," down 22% in the last 2 months, so why would anyone think the active user numbers will be strong. Judge cut in and told Brown that he's making Levinsohn's argument.

Weiss disagreed with Levinsohn that SNAP should be saying anything now, suggesting any good news will surface in the report. Levinsohn said he totally disagrees, that the company needs to talk about what's working and that it's been "completely silent" even though "I bet you there's something good happening there."

Weiss made a good point, that Jeff Bezos never addressed the critics of his stock. Levinsohn retorted, "Different, completely different story."

Elsewhere, Joe Terranova said the upside for big banks is still there. Josh Brown suggested you could effectively own C just by looking at the chart and not knowing anything.

All the panelists seemed to know that the best big-bank stock of the year is C.

Joe said of HTZ, "Don't touch it."

Josh Brown said Morgan Stanley upgraded GPRO with a $7.50 target, below its price.

Guy Adami on the 5 p.m. Fast Money predicted a "significant bounce" for SNAP in the short term though the company is "destined for failure."
[Friday, July 28, 2017]
Howard Marks apparently said the same thing in 2011 and 2013
Scraping for material, Judge led Friday's Halftime with Robert Shiller's observation from a day ago that the 1929 crash was preceded by low volatility.

Josh Brown wasn't having any of it, stating Shiller is a "genius," but added, "Bob Shiller has been making cautious comments pretty much his entire career. Um, and then he'll, you know, say, 'Oh by the way, I'm just indexing anyway.' … So, put that aside."

As for "The Memo" from Howard Marks that prompted Shiller's appearance a day earlier, Brown said that in Marks' 3rd paragraph, he wrote, "By the way, I said the same thing in 2011."

Steve Weiss said Marks made the same forecast in 2013 also. (See, that's why we said a day earlier (hit PgDn a few times) that if a meltdown happens in 2 years, Marks looks like a genius; if it doesn't, (virtually) no one will remember anyway.)

Weiss shrugged that Thursday was no "selloff." Judge insisted there was an "interesting reversal."

Weiss said it's a mistake to time the market; he's sitting in "about 30%" cash.

Weiss talked about pluses and minuses of the stock market and even mentioned Greece NOT issuing debt. (Yes. CNBC hasn't sent MCC there to report on the green lasers being flashed outside the parliament building.)

Mike Farr dialed in and cited a comment from Chuck Prince (haven't heard that name for a while) about "When the music's playing, you've gotta dance," perhaps signifying pre-2008 euphoria.

Jim Lebenthal twice said, "This is a stock-picker's market."
Jim says his channel check has found strength in JCP's women's apparel
In the 15th minute of Friday's Halftime, Judge brought up AMZN.

Stephen Weiss said there's no guarantee of a better entry point in AMZN, so if you want the stock, buy it now.

Referring to Howard Marks' FAANG skepticism, Weiss said a "value investor" such as Marks isn't going to be on board the FAANGs anyway. Judge punched back that Stephanie Link bought AMZN. (omg … the GREATEST stock purchase in the show's history.)

Judge asked Mark Astrachan some good questions about what's going on with SBUX; Astrachan mostly just offered the company's explanations but said perhaps there's a "share shift" going on where people are choosing independent coffee shops.

Judge said that in New York and San Francisco, "independent coffee shops are literally on every block."

We doubt it's really "literally."

Weiss said someone who has "250 locations in the Midwest" (presumably SBUX locations) says "traffic is way down."

In other matters, Weiss said, "I don't even know why cigarettes are still legal."

Jim Lebenthal said INTC has "a lot more room to run."

Josh Brown said there's no reason to get out of EXPE.

Weiss asked American Airlines CEO Doug Parker about fuel costs and whether he'd hedge again. "We don't feel the need to hedge," Parker said, "because we think we have a natural hedge — in our revenue stream."

Phil LeBeau, who began the interview with Parker, said Parker got a World Series ring from the Chicago Cubs.

Dana Telsey said JCP has "a lot of catalysts" for the back-to-school season.

Jim Lebenthal said that, based on his own observation at a Michigan store, JCP might be improving on "women's apparel and handbags."

Josh Brown scoffed, stating SHLD started bouncing the same time JCP did. "This is just short-covering; the entire retail sector hit a low in June," Brown said.

Steve Weiss said advertisers might abandon SNAP because they've seen the stock plunge. (This writer is long SNAP.)

Jim Lebenthal's final trade was PFE for "a little pop." Stephen Weiss mentioned AKAM.
[Thursday, July 27, 2017]
So if the crash happens within 2 years, he can say he called it; if not, nobody will remember anyway
Howard Marks played the financial media like a fiddle, and Judge fell for it like a ton of bricks.

The first 20 minutes of Thursday's Halftime Report was spent on "The Memo."

"The Memo" is apparently the title of a "warning" … of something … during this 1986-Mets market … from Marks.

The gist of it, apparently, is that Marks said he'd prefer to be cautious too early "rather than wait until it's too late."

Judge of course responded to this vague pronouncement like the traders in "Wall Street" who heard "18 for 400,000" in the BlueStar pit, reciting Marks' doomsday stats and asking panelists if the end is indeed near.

Jim Lebenthal tried to have it both ways, stating, "Well, he is right in concept. Now this is not bubble territory. … I think he's wrong to execute right now."

Jim for some reason apologized to gorjus Leslie Picker for saying this doesn't look like a "real rip-your-face-off" bear market ahead.

Leslie Picker said the difference between previous generations' hot "superstocks" and the FAANGS is that, for the FAANGs, "these companies do have a pretty significant moat around their businesses at least for now," even citing troubles of Snapchat (sigh) (this writer is long SNAP) and Blue Apron.

Grandpa John Fichthorn said Marks' message is "everything I believe in right now." He said we're "definitely at lofty levels" on "any historical measure." He mentioned 1930s, 2000 and 2007.

During these ridiculous exercises (how'd Carl's "Day of Reckoning" work out?) (what about Marc Faber in every appearance) (when was the last time you heard Meredith Whitney's theory on the wealth of the country shifting from coasts to flyover country), no one ever mentions that Fed (and presumably congressional) precedent was set in 2008, the Fed will act aggressively as soon as any downturn's in sight, there's a permanent Fed put. What would really be an empty-the-account-for-cash moment would be A) $12 oil, B) a currency crisis, C) notable war.

Marks is a great investor who obviously has a lot more money than this website. Anyone who takes this advice and sells the '86 Mets in August is a chucklehead.
'Housing bubble' appeared on nytimes.com 18 times in 2004, 13 times in 2002
Judge on Thursday's Halftime actually brought in Robert Shiller and asked Shiller if he shares some of Howard Marks' sentiments.

Shiller said, "Yeah I have for a few years now, and so, uh, I'm wondering why he came out with it right now."

That's odd. Just 2 months ago (visit our archives in the right rail), Shiller sort of told Judge the stock market could (that word supposedly was the key, according to Jeremy Siegel, who said he spoke to Shiller about the interview afterwards) rise 50%, though it was anyone's guess as to whether that was a 10-year timeline or less than 10 years.

Judge actually said that Shiller wrote, "One indicator has you lying awake, worried." (For those who thought that question on CNBC is always a figurative one.)

"I think that it actually relates to worries that people have that they might not bring up in discussing the stock market," said Shiller, who added this is a "time when people are worried about technology … a deep, underlying fear." (Would like to know how a Yale prof measures the level of worry about technology among people.)

"It doesn't matter what job you have, there's always some robot out there about to take it. And that is just relentlessly in the media," Shiller said. (Is there a robot set to replace Judge? In and of itself?)

But, as for the market, "It might go on for years like this," Shiller said.

Shiller also provided history lessons. Of 1929, he said, "The crash kind of triggered itself." He said there may have been "underlying fears" at the time, but those are "hard to document." (Translation: Judge wasn't on TV every day in 1928 asking people about the "Day of Reckoning, in and of itself.")

Shiller said that if you search for "housing bubble" in 2005, "Practically nobody, almost nobody said it," though he said "late 2005," it started to appear.

Grandpa John Fichthorn said he's curious about factoring in "adjusted earnings." Shiller chuckled, "I don't factor those in," then launched into a brief history of corporate accounting.

Judge said Marks thinks bitcoins are "perhaps even a pyramid scheme."
Absolutely no consumer ever buys anything except the 'experience' of Amazon Prime
Mark Mahaney on Thursday's Halftime said to (big surprise) stay long FB; "estimates are up more than the stock is."

Mahaney admitted he's got a sell on TWTR, but he doesn't want to write it off.

Mahaney said he doesn't see a "gap-up opportunity" for AMZN into the print, a good call (this review was posted after market close).

Jim Lebenthal said he doesn't feel any "sadness" about getting out of BA much too early. He said the stock is priced for perfection.

Grandpa John Fichthorn grumbled that at Boeing, "A lot of cash was pulled in this quarter from deferreds and from customer advances. So, that's not really cash."

Pete Najarian said a bunch of calls were being bought in airlines.

John Fichthorn had "no opinion" on Ackman taking a stake in ADP.

Jeff Kilburg thinks gold will stay over $1,250. Scott Nations said gold will "bounce around" in the 1,215 to 1,315 channel.

John Fichthorn touted his ANET short and called the stock "pretty rich" and suggested it's "personal" for John Chambers to "put these guys out of business."

Jim Lebenthal said he's sometimes accused of being a "dinosaur."

Pete Najarian's final trade was C and DB; Jim Lebenthal called INTC a "sleeper long."
[Wednesday, July 26, 2017]
Professor Siegel mentions Bob Shiller, but Judge doesn't bring up the 50% 'call'
Wednesday's Halftime Report began pretty much as they all do these days: Everyone's reasonably bullish, vol's probably gonna remain low, the market will keep going up by rotating leadership, the banks are INCREDIBLY AWESOME, active management will start to outperform, etc.

So we sorta tuned it out.

Jeremy Siegel, who thinks tax reform is giong to happen, did say 10% higher for the rest of the year doesn't sound like Judge's "euphoria," though 20% maybe would.

Josh Brown suggested BIIB might break out, and then we could see 350, 375 "before there's any real resistance."

Rich Saperstein said the risk of an executive order on drug prices is "overstated." Judge questioned the impact of a headline, "in and of itself" (sic redundant/useless).

Josh Brown said telecoms are beginning to become media plays, and that's not so bad. But Pete said they're "leveraged beyond words."

Pete Najarian said September 135 calls in WYNN were being bought. He said he's in the stock, not calls.

Addressing DPS, Josh Brown said, "Beverages is just a bloodbath."

Brown said the CMG dead-cat bounce is already being sold. "I just don't think management's very good either," said Steve Weiss.

Weiss said he bought AKAM calls on the "Greater Fool Theory."

Scott Nations said the RSI says crude is "not yet overbought." Jim Iuorio doesn't think it will cross 50.

Josh Brown shrugged that FB is "the best stock on the planet."

Pete Najarian touted BABA on "huge call-buying." Stephen Weiss said he owns FB stock and calls but will sell his calls. Josh Brown's final trade was AMGN, and Rich Saperstein said ABB.
[Tuesday, July 25, 2017]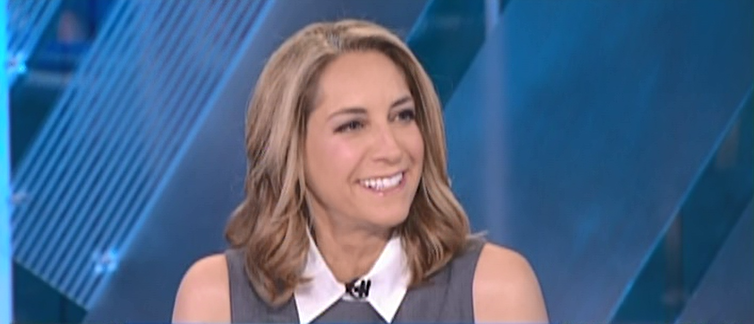 Karen questions why KORS wants to buy Choo at high multiple instead of its own stock
On Tuesday's 5 p.m. Fast Money, Karen Finerman, dynamite in gray, said of KORS, "I'm not a giant fan of this acquisition," questioning what it means that KORS isn't buying back its own stock at a 10 multiple while it's buying all of Jimmy Choo at a 27 multiple.

On the Halftime Report, Steve Weiss said the Choo deal is what we'll be seeing in this space.

As for retail, Rob Sechan said to avoid "those companies that will continue to be completely disintermediated by technological evolution."

We'd have to agree, it's probably a good idea to avoid any company that's being completely disintermediated.

But Judge asked if that sentiment has been "overdone" among retail stocks.

Jim Lebenthal insisted "the bottom" in retail was 2 months ago.

Kari Firestone said if GOOGL were down 4%, she'd buy more, but it was only down 3%. Judge said "But seriously," is there a difference between 4% and 3%. "I mean, really," Judge said.
Pete really tries to assure viewers that somebody buying a bunch of VIX calls is 'far more of a hedge'
Joe Terranova was asked by Judge at the top of Tuesday's Halftime Report what he thought about the day's market action.

"I find it all impressive," Joe said.

Rob Sechan said, "The pillars of support are still in place."

Jim Lebenthal said with a straight face, "This should lead to a good, active, stock-picker's environment."

Pete Najarian said he looks at options bets for the VIX as "far more of a hedge" (he used that term 3 or 4 times, seriously) than a downward bet and even mentioned 50 Cent.

Steve Weiss grumbled, "I'm not sure the VIX is what it was."

Weiss said Steve Easterbrook "pulled some other levers" besides all-day breakfast.

Weiss said CAT's management "underpromised and overdelivered" for a change while the previous management "really had no clue" about the "dynamics" of their business.

Jim Lebenthal cited MMM as an example of how a stock can still give back if they "trip up." But Guy Adami on the 5 p.m. show said MMM was "unduly punished."

Back on Halftime, Steve Liesman reported survey results on what people think about what investors think that hardly proved or showed anything. #wasteoftime #talkaboutGratefulDeadinstead

Liesman said he's "pretty sure" that Gary Cohn to the Fed is not yet a done deal.

Joe Terranova said that partly because of the presence of Anthony Scaramucci, he's "more than comfortable" that if Yellen is replaced, the "right person" will get the job.
Still trying to come to grips with Jim Gorman as 'the Babe Ruth' of money-center banks
Pete Najarian on Tuesday's Halftime fell into the timeline trap on UA.

Pete stated, "If you're willing to hold it for 3 years, then I think you've got a great runway for ya. But if you're actually looking for something in the next 6 months, couple of quarters, I don't think it's there, Scott."

That makes zero sense.

The stock is either going up, or down, or nowhere. The stock doesn't know or care whether its buyers have a 3-year plan.

If it's not a short-term buy, then it's not (yet) a long-term buy either.

Stephen Weiss said the UA multiple is "lunacy." Joe Terranova said there's upside risk, that a "significant bounce" in UA is possible.

Weiss said he bought the XBI on Monday.

Jim Lebenthal said it's "less and less likely" that Obamacare will be "wholesale" thrown out.

Pete Najarian actually said a buyer of SMH August 84 puts is probably looking for downside and isn't hedging.

Pete said "something is going on here" in SGMS, citing January calls.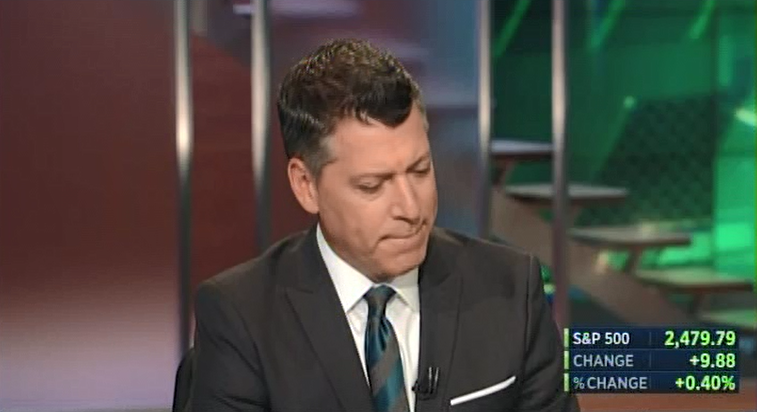 Judge slammed for 'funeral look'
Brian Stutland on Tuesday's Halftime said he sees more upside in copper; "we could be looking at $3 here."

Joe Terranova said materials can work now "for a trade." Steve Weiss said he agrees, but there's still "too much capacity."

Jim Lebenthal cautioned there's a lot of things that can trip up BA.

Weiss said he's in CMG puts; that wasn't a great trade late afternoon. (This review was posted after market close.)

Joe said he's adding to CXO. Weiss likes AKAM. Jim touted C, and Rob Sechan likes XLE.

Weiss said Judge has the "funeral look" day after day after day.
[Monday, July 24, 2017]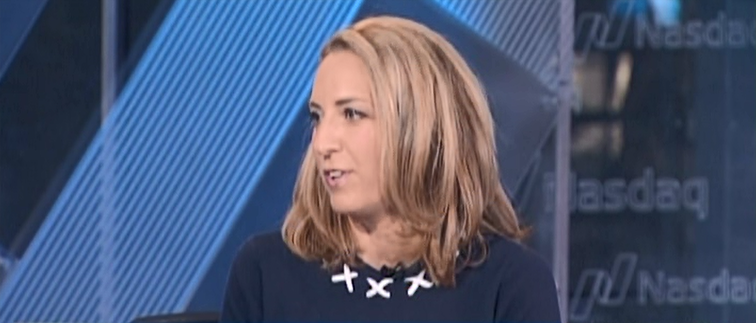 Karen: 'Something's kind of off' in the sporting goods space
Judge kept warning viewers of Monday's Halftime that they were about to get a statement from Jared Kushner.

It — like the Day of Reckoning — didn't happen (during the program).

So Judge spent the hour taking the temperature of the panel.

In a notable understatement, Joe Terranova said it's "important that the FANG stocks deliver."

Paul Richards said the dollar is "about what Washington's going to do." He predicted "consolidation" for a couple months.

Erin Browne said the dollar will continue to weaken, then, Pete Najarian-esque, asked herself a couple of questions.

Stephanie Link has been buying EBAY.

Joe said he's "not ready" to buy P.

Pete Najarian said someone sold SGMS calls at a profit and is now buying the January 35 calls.

Josh Brown said "Today provides that opportunity" for HAS, but he cautioned not to get "hasty."

Joe said there are better names for energy's recovery than HAL.

Stephanie Link said the reaction to SWK earnings was "silly."

Erin Browne said "you should be loading up and buying" industrials.

For final trades, Josh Brown pounded the table again for ALB (Zzzzzzz). Steph Link said HDS, Erin Browne said EEM, and Joe said MS.

We weren't going to do any pictures, but on the 5 p.m. Fast Money, Karen Finerman was soooooooo gorjus in fabulous new hairstyle and new outfit, we couldn't refrain.

Karen, a chatterbox on this program, said GOOGL had a "good quarter." She lamented being long FL but, pointing to the Hibbett revenue problem, stated, "The carnage this created in the entire space is many, many, many multiples of that, so something's kind of off there." (This writer is long FL.)

Guy Adami said to take profits in NKE.
[Friday, July 21, 2017]
Josh Brown: Scaramucci getting CNN reporters fired was the 'clincher' for Trump
Friday's Halftime Report was a blast from the past.

Panelists talked about stocks — but the main event was the breaking news that former longtime CNBC contributor and Fast Money semi-regular Anthony Scaramucci has somehow, after a considerable setback in January, ascended to a top White House position.

CNBC's hardy political reporter Eamon Javers declared, "This would be a significant political comeback for Anthony Scaramucci," except Scaramucci didn't previously have an official political stature, but nonetheless, it's an impressive rebound from a tough January and dubious experience at Davos that nearly knocked him out of the presidential circle.

Josh Brown opined that Scaramucci recently taking on CNN and "actually having 2 reporters get fired" had to have been "the clincher" for this White House.

Javers made a point of reading a note he received from a source, explaining, "This is happening with some resistance uh from people close to Spicer if not to (sic grammar) Spicer himself."

Later, Javers said his source carped, "This is a joke. Trump wanted Scaramucci on television as a surrogate for the White House and wanted to give him more of a formal title."

Judge offered, "Anthony Scaramucci's not afraid to take people on."

Judge added, "I've been trying to get in touch with uh, Anthony, haven't been able to do that. Uh, he may be a little busy at the moment."

Stephen Weiss said that in "every" Wall Street trading room right at that moment, "Thousands and thousands of dollars are being wagered as to who's going to play Anthony on 'Saturday Night Live.'"

On the 5 p.m. Fast Money, featuring Mel's sharp new hairstyle, Guy Adami called the hiring/elevation of Scaramucci a "home run," with consensus backing from the panel.
Weiss: Markets would prefer president who's more 'stable mentally' than Donald Trump
Then again, does Anthony Scaramucci know what he's in for?

Steve Weiss on Friday's Halftime bluntly suggested this might not be a 4-year president, stating if Donald Trump is impeached or resigns, "the market would trade higher," because we'd have someone "who's more stable mentally in there."

Jim Lebenthal asserted that we're in a "meltup," but Weiss challenged that term, stating this is "more of an orderly progression going higher," not a "meltup," which to him is 2% in a day.

Jim Lebenthal said the market leadership is broadening out, and maybe telecom will start participating.

Mike Wilson, who resembles Peyton Manning, said "I'm feeling very good" about the stock market, citing in part interest rates remaining "pinned."

"The Europe trade is still on," said Kevin O'Leary.

Josh Brown singled out GILD as having "tons of room to the upside," and then CELG; "this just looks absolutely amazing."

Judge wanted panelists to rave about MSFT and MCD. Pete Najarian hailed Satya Nadella's leadership as driving MSFT. Pete said MCD under Steve Easterbrook "started to care more about the customer" and pointed to (yes) all-day breakfast.

Kevin O'Leary said Microsoft is the "premier license for every seat in a small company." But volunteering a different name, O'Leary said GE is "where money goes to die."

Jim Lebenthal called GE a "value trap" and said it has been for a long time.


Jim says an analyst should be applauded for making the wrong call
Stephen Weiss and Josh Brown on Friday's Halftime said BTIG & Atlantic Equities analysts did the right thing by lowering JNJ from holds to sells.

Jim Lebenthal said splitting up JNJ would put "some life into this stock."

Jim said to "applaud" the Berenberg analyst's courage for his WFC sell, which is "not just a wimpy sell" but a $35 target.

Even so, "I don't think it's the right call."

Josh Brown said he'd rather buy OXY when it's going up, and that it's going to follow the price of crude.

Stephen Weiss said TXT is in a tough space but will still participate in a growing economy.

Pete Najarian said September 92.50 PG calls were being bought.

Jim Iuorio said gold got the "green light" from Draghi on Thursday; he plans to ride it to $1,300.
[Thursday, July 20, 2017]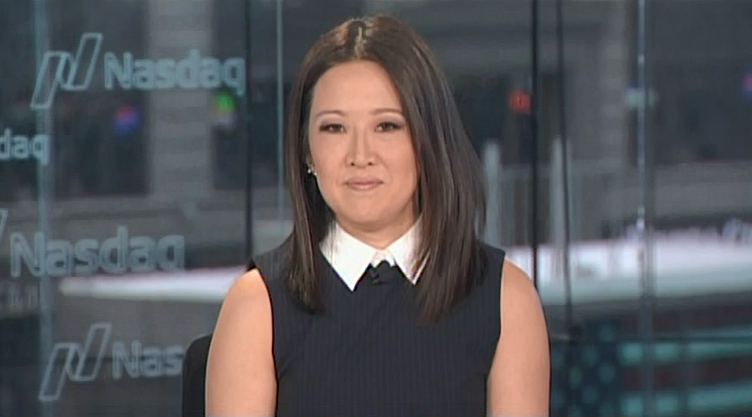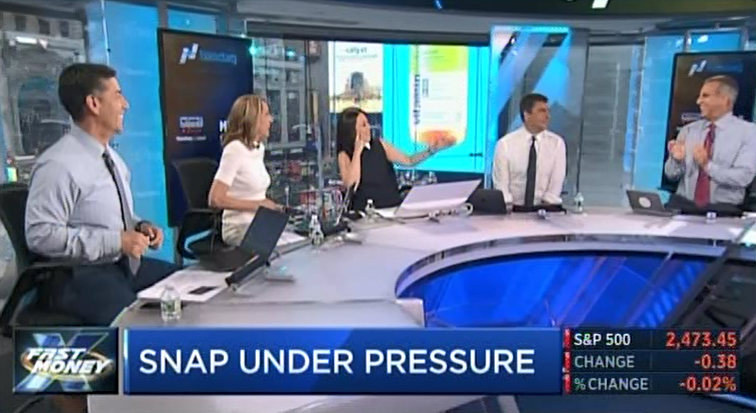 Mel bungles Fast Money opening (as Karen gets deeply philosophical)
She looked great — but it was a teleprompter train wreck.

Melissa Lee on Thursday's 5 p.m. Fast Money said at the opening, "First we start off with the big story of the day. After 9 years in prison, the parole board (sic misplaced modifier) (apparently not covered in Harvard English classes) voting today that O.J. Simpson will be officially released in October. Just kidding. Just kidding. Here's the real big story for us today (sic redundant word): It's Amazon's world, and we're just living in it."

1. She said "just kidding" as though the Simpson news were false. It wasn't.

2. The parole board didn't spend "9 years in prison."

Whoever writes this material needs to work on the basics.

The only thing saving this disaster of an intro was Karen Finerman appearing in stunning white. (And the hit from CNBC superfox Deirdre Bosa.) (And, to a lesser extent, Guy Adami's spectacularly hilarious expression deftly caught by the cameraman when Dan Nathan said "I know you like Dick's.")

But then there was this: "What is the ultimate end game (sic 1st of those 3 words redundant) for Amazon," asked Karen. "I doubt it's very much about money at this point. You know, how much money do you possibly need."

Seriously? Amazon doesn't care about revenue very much?

The "end game" question is an outstanding question. Not just for Amazon but … virtually every human and every entity.

For example, what is Karen's end game … the next Warren Buffett … the next Maria Bartiromo … the next Harvey Weinstein …?

We don't know. It's never really been discussed on Fast Money.

(She's the one who brought it up.)

SNAP got its daily CNBC spanking on Fast Money. (This writer is long SNAP but has emotionally written it off.) (#gofacebook #ohjoy) Because its first quarter was the most important company quarterly report in history.

A day earlier, Kayla Tausche called Melissa "Michelle" on Wednesday's 5 p.m. Fast Money.
'Definitely upside
and downside' in UA
On Thursday's Halftime Report, Jay Sole of Morgan Stanley predicted NKE's North American growth rate will start to improve "after this quarter." He has a 68 target.

Josh Brown said the "new normal" for sporting-goods clothing is "more of an all-day, um, situation." (So wear your track suit to breakfast.)

Judge asked if the worst is over at UA. Sole said the stock has "adjusted" to the "realities" of the company.

Then, in a phenomenally bold call, Sole said, "There's definitely upside and downside from here on Under Armour."

Joe Terranova asked if LULU bottomed at the end of May. Sole said he doesn't cover the name; Kimberly Greenberger does.
Jim doesn't want to be 'sanctimonious' (but he's no stepchild)
On Thursday's Halftime Report, Judge mentioned "Amazon" in less than a minute, then launched in to the day's excuse for bringing up the name.

Judge curiously stated, "Sears is gonna begin selling its Kenmore brand and appliances (sic redundant) on the shopping site," and of course "the shopping site" was confusing (whose shopping site?) instead of just saying "Amazon" again. (But it all wasn't as confusing as Mel's opening.)

Josh Brown said the spread between online-shopping multiples and brick-and-mortar multiples has never been wider. Citing NKE, Brown said the "reality of life" is that sometimes you have to "partner with Jeff" in order to do the online thing right.

The only thing about that, Weiss was recently trumpeting how great it is to buy things on nike.com.

In the purebred portion of the show, Jim Lebenthal said it's "indisputable" that "more people are buying online than in stores." Jim said he hasn't done his research on HD.

"You've gotta do a lot of research to know if you're gonna buy Home Depot down 7 bucks or not?" Judge asked.

Jim said, "I don't wanna be sanctimonious, but, I do a lot of research before I buy a stock."

Judge said the president has thrown "fireballs" at Jeff Bezos.

Jim said, "Home Depot is a little bit immune to this."

Josh Brown pointed out HD's high multiple.

Joe Terranova said, "I wouldn't buy Amazon here."

He added, "That disruption is going to lead to someone finally saying, 'OK, we are going to go out and we are going to try and compete against Amazon.'"

Joe said HD and LOW began falling after quarterly earnings in April; he'd wait to buy until after August earnings. He didn't express interest in WHR but said "this is an opportunity in Best Buy."

Josh Brown said there's "no other retailer" with Amazon's financial/logistics capability to deliver the product.
How come Judge didn't ask Stacy Rasgon for his 'best superlative' about QCOM?
Stacy Rasgon on Thursday's Halftime Report said the QCOM licensing results (Zzzzzzz) were even weaker than people thought.

Judge asked Rasgon why he didn't just rate the stock a sell rather than market perform. Rasgon didn't answer the question but only sounded like he was answering the opposite question, stating, "I never seem to be negative enough. Every time I think it's as bad as it can get, they keep surprising me."

Rasgon said AAPL could even stall the QCOM case "for the next 3 years."

"At best, I think it's probably dead money," Rasgon said.

Josh Brown said QCOM is a "dog" and noted it's down 18% in a semiconductor bull market.

Jim Lebenthal said "Historically (sic about to be redundant), this has happened before," referring to the AVGO-QCOM fight 10 years ago. "These things get settled," Jim assured (though he didn't go as far as to call QCOM a "stepchild").

Joe Terranova questioned what happens if QCOM loses "in totality" and predicted in that case, "it's a $30 stock." Jim said "for them to lose in totality, you've gotta basically throw out IP rights."

Jim admitted he's in QCOM at 62, so "I'm underwater on it."

Pete Najarian said someone's buying 14,000 MU July 33 calls.
We're still coming to grips with James Gorman as 'the Babe Ruth' of banking CEOs
Josh Brown on Thursday's Halftime said he's not bullish on CMG, but, "There's probably rats falling from the ceilings at fast casual, uh, and quick-service restaurants all over the country, and, it doesn't make social media because it's not Chipotle."

Mario Gabelli touted MSG; "it's my FANG equivalent; it's live sports." Jim Lebenthal said he's in MSG.

Gabelli also outlined the BATRA situation and touted the value of "live entertainment."

He called MGM a "buy" but said WYNN is a "much better buy." He also likes ERI and FLL and GDEN. He said he likes those names better than CHDN.

Gabelli likes NAV and said CNHI "has gotta be aggressively bought."

Jim Iuorio said he thinks the dollar visits the 2016 lows of "92-ish."

Joe Terranova, who brought his A game despite not saying a whole lot, made V his final trade. Jim Lebenthal said CSCO.

Judge aired clips of young CNBC superfox Jane Wells; Wells referred to O.J. saluting the "grande dame" of L.A. court reporting, Linda Deutsch.
[Wednesday, July 19, 2017]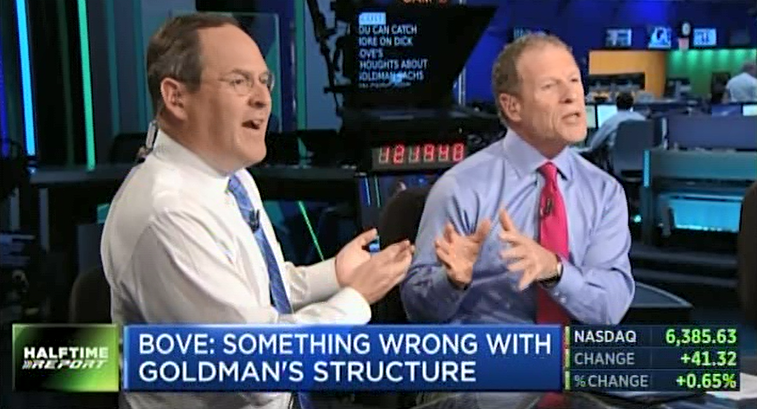 Jim says Goldman Sachs makes some workers feel like a 'stepchild'
Wednesday's Halftime Report served up a purebred-y scoop of elitism during an otherwise robust discussion of Goldman Sachs.

It happened when Jim Lebenthal said, "If you wanna actually change this company and actually make it somewhat different, focus on the investment management division. I was there 15 years ago, and I can tell you, you felt like a stepchild in that division."

Whoa. How inferior. Hope Jim came through that experience OK. (Surely none of his investors is a stepchild.) (Wonder how Jeff Bezos felt.)

Moments later, the conversation heated up — not over stepchildren, but what it's really like at Goldman Sachs.

"The culture has not changed at Goldman Sachs. The culture is one of the strongest on the Street," Stephen Weiss told Jim.

"I completely disagree," Jim said. "It's not long-term greedy anymore."

Jim insisted trading is about today while investment management is about the long term. "That is fundamentally, culturally different between those 2 divisions," he said.

"That is so untrue," Weiss said.

"That's completely true," Jim said.

"How much time have you spent in an investment bank. On the sell side," Weiss demanded.

"Plenty," Jim said.

"No. Working at an investment bank," Weiss clarified.

"5 years," Jim said.

"OK, which one," Weiss wondered.

"Goldman," Jim said.

"Which position were you in?" Weiss persisted.

"I was in private wealth management," Jim said.

"OK, great," Weiss said.

"What is this, 'Ironsides' here?" Jim said.

"When you're in a trading desk, and running a trading organization, and I've had trading desks report to me, OK, you align perfectly with the investment bank," Weiss explained. "You know why? Because nobody wants to take their company public or do a secondary unless they're sure- unless they're sure" there's interest in the stock.

"That's 20 years ago. That's, that's pre the Chinese wall, that's pre-Henry Blodget," Jim said.
Dick Bove says Jim Gorman is a 'Babe Ruth' of banking
Dick Bove's GS conversation on Wednesday's Halftime Report was so wide-ranging, it's hard to know where to start.

"It's not, you know, a couple of quarters, it's a decade," Bove said. "If you go back to 2007, the company was making more money than it's making today. … The reason for the problem is that they made a business decision, you know, 10 years ago, which is that, 'This market is gonna come back.' Well it didn't."

"This company has simply gotten more and more insular," Bove added. "It's, it's a private company that's running under a public, uh, if you will, name."

Bove said the shares were 250 when Lloyd Blankfein began as CEO. "Which company can you find out there that has a record as consistently bad as this one where everybody loves it," Bove asked.

Judge was the first to push back. Showing a chart of 5-year ROE among banks, Judge said, "The way that Blankfein guided Goldman through the crisis; is there a better risk manager out there …"

Dick said, "You're picking your point of entry, right. You decided that you want to take a point of entry 5 years ago. Why don't you take your point of entry 10 years ago."

As a matter of fact, Steve Weiss did just that, telling Bove that GS revisited its pre-2008 high, and, "I challenge you to give me any other bank in your universe that did that over the last 10 years."

"JPMorgan was selling at a higher price than it was in 2007," Bove said.

"JPMorgan I agree with," Weiss said, insisting MS and C are not.

Judge said, "If anything, Dick, it feels like you're fixating on a couple of quarters, rather than a longer-term story."

"10 years of no earnings increase. That's 1 quarter? 6 years of not showing any revenue increases, that's 1 quarter?" Bove responded.

Things got a little loopy when Judge and Dick started drawing comparisons to ballplayers. "James Gorman, you know, is the Babe Ruth, if you will," Dick actually said with a straight face. "Jamie Dimon is a Babe Ruth, if you will. You're seeing even Brian Moynihan, at uh, you know, Bank of America, who's a Baby Ruth- Babe Ruth, if you will. These people have done something with their franchises … they changed their company in a fashion to benefit their shareholders. Goldman Sachs did not."

Judge said "some would suggest" (without naming anyone) that without Blankfein, Goldman might not be here. "I have no idea why they would suggest such a sit- such a thing," Bove scoffed. "I have no idea how this board gets away with doing what it's doing."

Weiss told Bove, "In some regards, every time you come on, it's like watching Hamas, because all you do is lob hand grenades."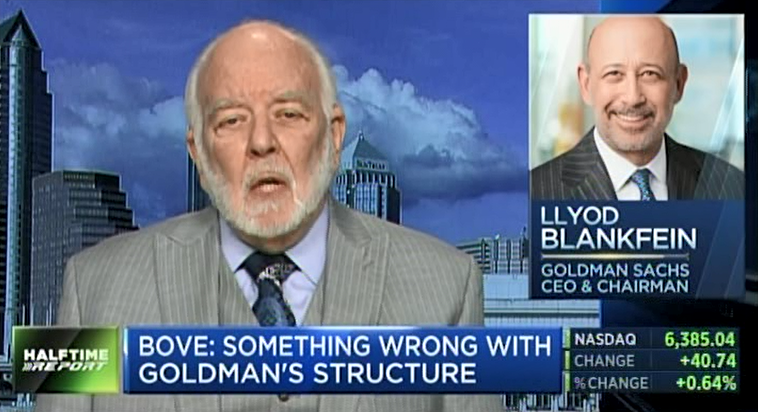 CNBC struggles to correctly
spell Lloyd's name
Jim Lebenthal opened Wednesday's Halftime stating of Goldman Sachs, "I think the question is, where are the investment bankers picking up the slack."

Josh Brown said FICC has always been a "mercurial" business. "This is like the first bull market I can think of where Wall Street wasn't absolutely just feasting," Brown said.

Dick Bove said Goldman Sachs is "not even questioned by the marketplace." Judge said the GS share price "in and of itself" (sic pointless and redundant) shows the market has questioned the stock.

As for FICC, "33% decline is outrageous," Dick said, complaining often about the "insular" nature of the company.

Dick said GS was asked Tuesday about what the buyback program looks like, and the answer was, "We're not gonna tell you."

"That board of directors cares nothing about the shareholders of this company," Dick asserted.

Judge said Goldman Sachs had no comment on Bove's opinion, but, "They are likely watching uh right now because we alerted them that you were coming on."

Jon Najarian said there will be a target on the folks running FICC at GS. "I don't think this takes down Lloyd," Doc said, but the FICC bosses are "worried right now."

Stephen Weiss stated, "You don't have some of those blowout quarters in, in fixed income, commodities and currencies that you used to have. Lloyd Blankfein is to be commended for changing, for morphing that company as well as he did without losing major profitability."

Bove noted Weiss' mention of the GS partners. "It's not a partnership. It's a, it's a shareholder-owned company. … They run it as if it's a partner-owned company," Dick said.

Weiss said that based on stock price, "I'd say that's a pretty damn good record." Dick chuckled that, "If you bought the stock when Lloyd Blankfein took over, you didn't make any money."

Bove makes some quality observations, but he'd be best off sticking to the vision angle, as in, banks have none, except buybacks (if that's even a "vision").
Doc buys CMG calls
Stephen Weiss on Wednesday's Halftime said he sold his CMG puts after a "great trade." He said the stock's still overvalued.

Jon Najarian, though, said he bought CMG calls Wednesday, calling this "way overdone" if it's just 1 store in Virginia.

Josh Brown said, "This is as oversold as a stock can get" and that Doc will have to sell the "vicious bounce" with "3 hands." Josh said it already started rolling over in June.

Kari Firestone isn't interested in CMG.

Weiss said United Airlines is "still suffering" from the "public relations problems that they've had." But he likes the space.

Jim Lebenthal called IBM a "value trap" and said to "stay away."

Josh Brown said the CSX uptrend is "still intact" and that the stock deserves the benefit of the doubt, but he'd give it a "very tight leash."

Jon Najarian said it's been a "good day" for TRIP options.

Kari Firestone said she likes PYPL and said it's growing "particularly with millenniums (sic)." (So much for that Ira Sohn short call that won an award, which this page noted yesterday (see below; good to see the show catching on).)

With a lot of intro about takeover rumors, Doc said December 65 PF calls were popular.

Doc also said VIPS calls "more than tripled" and that Pete has taken off half.

Kari Firestone said LULU's recovery is no guarantee for the longer term. Josh Brown said he'd sell LULU.

Stephen Weiss insisted LULU is "an incredibly strong brand" with "lots of room for expansion."

Judge asked if LULU is "Amazon-(43rd minute)proof." Weiss said, "I think to a certain extent it is."

Kari Firestone reiterated that SHW isn't susceptible to Amazon because "paint can't fly." Firestone is also looking at HBI and auto parts names. Weiss likes the auto parts space.

Josh Brown said of the pressure on retail, "It's not just Amazon, it's ecommerce."

Weiss brought up the pre-Amazon-Effect narrative, which this page noted recently hasn't been mentioned for months since AMZN shares went higher, stating, "Consumer spending, all the studies show, have gone more towards experiences and away from consumption." (What exactly are "all" those studies?) (And what kind of "experience" does someone get from buying Prime?)

Jeff Kilburg said the "dollar drubbing" is lifting crude. But he doubts crude can top 47.50 or 48. Scott Nations is looking at 47.40 as key resistance.

Kari Firestone said VRTX's big day "gives life to the sector." She owns BMY and RARE. Josh Brown is long AMGN.

Rod Hall of JPMorgan told Judge about iPhone supply and pricing plans and said "a lot of this is in the stock right now; in fact, we think the stock is very attractive at these prices."

Hall said "nobody really knows" what the iPhone price will be.

Jim Lebenthal's final trade was AAPL. Weiss said he bought FB calls. Kari Firestone touted FRC. Josh Brown said ALB, and Doc said ECA.
[Tuesday, July 18, 2017]
PYPL up 19% since May 9 when Ira Sohn champ called for a short on Halftime Report
Judge on Tuesday's Halftime asked Scott Devitt for the best "superlative" he could offer on NFLX.

"I'm sorry?" Devitt said.

Judge asked for the "best superlative" on the results. Devitt didn't really offer one, saying it was best 2nd quarter in Netflix history.

Doc said he had some NFLX calls and was short puts. "It is a blowout," Doc said.

Steve Weiss admitted he was worried heading into the NFLX quarter "and sold part of my position yesterday" (oops). He wanted to buy more at 170 or 173.

"It's being valued like Amazon," Weiss said.

Pete Najarian predicted there'll be a better opportunity to get into NFLX.

Judge said he doesn't know what else to say about APRN other than you can be "nothing but dour."

Incredibly, Judge said with a straight face, "It's not fun to kick something when it's down," even though his show does that every day.

Judge questioned Maxim Group's upgrade of CMG on "queso" while the Virginia restaurant debacle was occurring. Weiss said, "I've owned puts on this stock for a few weeks now, and, um, it's a good day."

"This could not have been worse timing for this analyst on this buy. I mean, literally, just an hour or so into trading," Pete said.

Doc said someone bought a bunch of August 40 calls in TRIP.

He said October 26 calls in CIEN were popular.

Pete said VIPS July 11.50 calls were popular.

Doc said we can see volatility go even lower.

Joe Terranova hailed the dollar falling 7%.

Doc said Goldman Sachs has been "absolutely wrong" on its energy calls, pointing to $60 oil.

Judge finally settled for a commercial at the 34-minute mark.

On the 5 p.m. Fast Money, Karen Finerman said the one thing about United Airlines that doesn't affect her view of the stock is the David Dao dragging incident; "I don't think that matters at all." Mel opined, "It seems very rear-view-mirror at this point."

Karen said, "I am very skeptical that we will get any kind of meaningful tax deal done."

Guy Adami finally took a cue from this page and complimented Karen's "stunning blouse."
If Jamie Dimon is bummed out, he should campaign for a different president
Kevin O'Leary, who can be tiresome at times (especially on those endless CNBC "Shark Tank" commercials) (try watching those 17 times a day along with the Marcus Lemonis commercials) but is undeniably a savvy market watcher, made the most sense of anyone during Judge's soporific discussion of big banks on Tuesday's Halftime Report.

O'Leary called the big banks "regulated utilities" and questioned why anyone would own any of them.

O'Leary even claimed GDP can't grow 3% because banks are "so highly overregulated."

(Sigh) That couldn't derail the predicted commentary on NIM — Najarian Interest Margin — as Jon and Pete somehow both were positive on the big banks.

Pete said he doesn't feel any worse about bank stocks after the BAC and GS quarters.

Pete called the GS stock reaction a "misread."

Doc said MS has appreciated 59% in the last year, and JPM is at 42% and GS is at 37% and "Apple and Amazon (9-minute mark) can't even match that."

Doc said the only big bank he owns is JPM. He suggested 2.20 might be the bottom for 10-year yields, then the outlook would improve shortly.

Judge suggested JPM goes to 80 before 100. Doc took the other side of that. (No surprise.)

Steve Weiss said he feels the same as Pete but thinks it'll take longer to work out, then observed, "Private equity has had a record raise of capital," predicting it will lead to fees for investment banks. (And then clarifying that's what he meant even though we (and presumably most viewers) got it the first time.)

Joe Terranova said he'll hold BAC and MS because they've proven to be "slightly immune." But he's surprised some banks aren't down even more than they are. Joe said he doesn't want to buy GS because of "difficulties in the management of their trading business," nor does he like regionals.

Pete curiously said if you're going to focus on trading volume for banks, then "don't be in these." (But the stock goes up or down regardless of what you're focused on.)

Wilf Frost took everyone back to GS, reporting on the CFO's comments. Pete thundered that the revenue was fine even though trading was down, so "if that improves at all …"

Joe said the problem is "the trading seems to matter so much" at GS.

Joe pointed out financials have the highest corporate tax structure (in case anything happens in Trump-land) (Snicker).
Weiss: Donald Trump is
'considered a lame duck'
Tuesday's Halftime Report provided some impromptu stark assessments of the state of the White House.

"President Trump is weak," said John Harwood.

"He's considered a lame duck at this point," said Steve Weiss.

Weiss said the "base case" political outlook is nothing happening. Harwood said of tax reform, "It might happen, but I wouldn't bet a lot of money on it." (So why wasn't anyone saying of Trump, "You are what your record says you are"?) (See below.) (#wisdom)

Moments later, Kayla Tausche flagged down Steve Schwarzman, who used to be so unreachable that CNBC had to resort to endless clips of him walking in a door to illustrate the BX IPO but now is on TV frequently to discuss the current government.

Given a chance to ask his own question, Judge gave Schwarzman a long windup speech, then asked about Jamie Dimon's remarks. Schwarzman said, "I just saw Jamie walking in the door," and Schwarzman mentioned the remarks (bet nobody else asks Jamie about it) and told Judge there are very few Americans "who are really proud of the functioning of the U.S. political system."

Schwarzman said "nobody thinks were batting a hundred" (sic meant "thousand") but added "out of a hundred."

Schwarzman put a Q1 2018 timeline on … some kind of government agenda action.

Weiss said Schwarzman being "hopeful" of something of the Trump economic "agenda" getting done "sounds like a downgrade."

Pete Najarian wondered about Scharzman's time frame for "hopeful."

Schwarzman called the stock market "pretty fully valued."

Kevin O'Leary said separately, "This idea of revenue-neutral tax cuts is insane."

More from Tuesday's Halftime later.
[Monday, July 17, 2017]
Where and when exactly did Bill Parcells invent the 'record' quote?
Judge on Monday's Halftime said this could be a "kitchen sink" quarter for GE.

Leslie Picker, stunning in green, offered both sides of the Peltz-P&G standoff.

But then things really got interesting when Judge corrected Jim Cramer's bungled quotation of Bill Parcells on records.

Just out of curiosity, we tried to determine when this quote supposedly occurred. According to an online search, the first time the New York Times printed it was in October 1994, but that reference suggested the quote was already well-known: "That brings home one of Parcells's sayings: 'You are what your record says you are.'"

The quote does not appear on Parcells' Wikipedia page.

In this strange 2011 YouTube interview amid the sounds of Billy Joel's "Tell Her About It," Parcells acknowledges the quote and says he heard several such quotes from his father, but there's no indication of where the "record" quote originated.

Yes, there could be poorly labeled press-conference footage or smeared pdf'd newspaper pages somewhere. But for all practical purposes, the origin of this quote — and any proof of Parcells actually saying it or being the first to say it — does not exist in cyberspace.

Which honestly isn't much of a loss, because, under close scrutiny, it really doesn't mean anything at all.

If it were PAST tense — as in, "You were what your record says you were," that might be legit. But the fact a football team is 9-1 does not mean it will win 9 of its next 10 games, just like a stock that has risen 30% in half a year will rise 30% in the latter half.

So maybe Cramer should try again.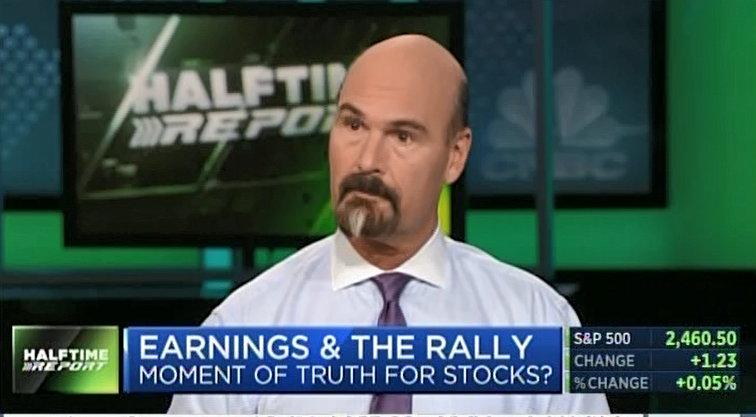 Doc actually claims LinkedIn is a 'huge' part of MSFT's strategy
Not too far into Monday's Halftime Report, viewers' jaws were dropping as Jon Najarian spoke about MSFT.

"Don't forget about LinkedIn as part of this now," Doc said. "When this strategy plays out even moreso Judge, this is gonna be huge for them."

"Even moreso?"

This page hasn't heard anyone tout LNKD in a MSFT recommendation since the $26 billion (snicker) deal occurred.

"Huge"? (snicker)

(By the way, panelists used to talk about FB wiping out LNKD the same way they chortle about SNAP right now. Guess LNKD was actually a great "strategy" of some sort that FB hasn't wiped out.) (This writer is long SNAP.)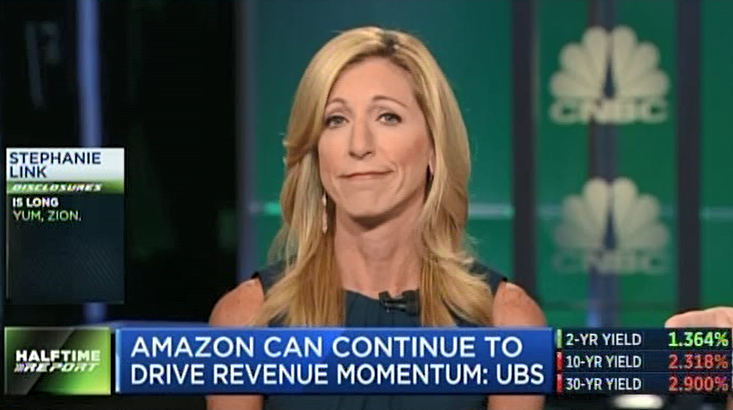 It's an effect, Stephanie,
more than a cause
It took until the 22nd minute for Judge on Monday's Halftime to mention AMZN (Mel mentioned it within the first minute on the 5 p.m. show), noting the price target upgrade to $1,200 from UBS.

Stephanie Link, who has to be congratulated at least once a week for buying AMZN shares for TIAA-CREF, began a speech to viewers stating, "People who are Prime members spend 2 to 3 times as much."

Correct. Because they're the biggest shoppers on Amazon in general. Just like the folks at the casino with the players cards tend to be the ones who gamble the most money.

Jon Najarian called Amazon's WFM purchase "brilliant" (funny nobody called WFM a "brilliant" stock before Amazon bought it) but admitted "a lot of these people might already be Prime."

Jim Cramer said of Prime, "I was with someone this weekend who didn't have it. And everyone laughed at that person."

o.

m.

g.

Expressing a rare bit of panel skepticism (aside from the fact no one including Link can explain what price the stock should or will reach) was Pete Najarian, who said the AWS competition is "coming more and more at them," and he doesn't necessarily think that's a good reason for the upgrade.

Judge actually asked with a straight face if AMZN is "the most bullet-proof stock in the market." Cramer said, "Wow, that's really rough."

Jon Najarian said you can put in an AMZN buy order "somewhere between the 927 that it got down to in June and 950. And, and if it gets there, you pull the trigger no matter what else is going on." (If you put in a buy order at those prices, doesn't it pull the trigger automatically?)

Doc suggested AMZN could just wipe out APRN.

Grasping for material, Judge suggested Ryan Leaf had a worse debut than APRN. (Perhaps Ryan Leaf had some memorable quotes for Judge and Cramer to share.)
Analyst who happened to be assigned to AAPL a decade ago is just. so. great.
Pete Najarian on Monday's Halftime hailed Katy Huberty; "she's been right … she hasn't been shaken out."

Jon Najarian said bulls were buying September 97.50 calls in V.

Pete Najarian said buyers of AA August 32 calls were rolling up into August 38 calls.

Pete predicted a breakout for CHD.

Doc didn't say whether to buy RH.

Stephanie Link likes EBAY under 35. She called MT a play on global growth.

Rich Greenfield said people had been expecting "big deceleration" in NFLX subscriber growth that hasn't happened this year.

Judge asked Greenfield about Einhorn's opinion. Greenfield said the amount of "heated bulls and heated bears" on the stock is what "makes it so much fun" as an analyst.

David Seaburg took a modest victory lap on the 5 p.m. Fast Money for touting NFLX but said he wouldn't necessarily chase the stock on Monday's afterhours gains.

Link's final trade was FDX. Doc said he bought AMC calls during the show. Pete touted HD, and Jim Cramer suggested XPO.
[Friday, July 14, 2017]
Tom Lee warns market's at a level unmatched except in 1929 and 1998 (then says there's gobs of money on the sidelines)
Tom Lee on Friday's Halftime Report admitted his S&P target is actually below Friday's level; it's "a little bit of egg on our face."

Then he tried to pull a Robert Shiller, stating the market-cap-to-GDP ratio is 91%.

"The only time in history it's been higher is 1929 or 1998," Lee said.

The odd thing about that … 1929 was pretty bad, but if you bought that 1998 market, you still had a year and a half of glory.

Nevertheless, Lee at one point said, "High-net-worth individuals haven't really owned equities in a big way until recently. So I think there's still a lot of money and liquidity on the sidelines, yes."

Kevin O'Leary advised owning AAPL, XOM, JNJ, MSFT, PG, PM and PFE in the 2nd half of the year for their "bullet-proof balance sheets" (Zzzzzzzz).

Tom Lee endorsed energy.

Brian Stutland said the dollar is driving gold; he thinks gold stays over 1,200 until the dollar really strengthens. Anthony Grisanti said if long gold, he'd stay long, though it's "tough to buy right here."
Sully lets viewers know how many patents QCOM has
Tom Lee was the first on Friday's Halftime to say "Amazon" (at the 16-minute mark), suggesting "not everybody" is going to be a victim of that company.

Well, he's right. (Unless you listen to CNBC all day.)

Guest host Brian Sullivan said, "Amazon is only a tiny percentage of overall retail sales. I mean, we've got to remind ourselves of that."

Jim Lebenthal said that in terms of time of year for buying the stocks, retail is kind of in a "dead space," with many quarters ending in July.

Sarat Sethi likes LB. Jon Najarian met the daily quota for touting PVH. Josh Brown said, "The stores that are reliant on mall traffic are in very big trouble."

Kevin O'Leary said, "I've increased my exposure to Wal-Mart." O'Leary said he's "willing to forgive" Wal-Mart for buying Jet; Josh credited O'Leary for recognizing the value of that transaction after their debate a while back.

Mel on the 5 p.m. Fast Money gushed about Jeff Bezos' body and kept wanting to show it; oh joy, now he can beat up everyone too. (Bet he had some really fascinating conversations at that conference.)

Sarat Sethi at Halftime had to answer for backing QCOM, predicting gains once it settles with AAPL. He actually said he's been in the name for 15 years. Sully said "last time I checked," QCOM had 77,000 patents.
Dick Bove correct,
banks have no vision
On Friday's Halftime Report, Sarat Sethi curiously said to "wait a little bit" to buy banks, but they're "great opportunities" to own later, "If you believe that our economy is gonna have steady, slow growth; if you believe that interest rates will slowly move up over time."

Actually, it doesn't matter what anyone believes; either they'll go up, or they won't.

Jim Lebenthal said C (Zzzzzzz) is trading at tangible book (Double Zzzzzzz), a "good" but not "great" stock.

Taking his time to deliver a narrative, Josh Brown touted how much money JPM has made.

Brown explained that there's "hard deregulation" and "soft deregulation."

Tom Lee said banks are worth buying over the next couple of years. (Zzzzzzzzzz)

Kevin O'Leary said he sees nothing happening in financials for 6 months. O'Leary said C needed "financial engineering" to make the numbers.

Anton Schutz said "we've gotten so myopic" about bank earnings, and, "I did expect the group to trade poorly today, regardless of what they produced."

"At the end of the day, I think that you, you buy pullbacks in these names," Schutz said. His favorite of the big banks is BAC. His favorite regional is PFNP.
Doc unfairly Fast Fired on FL, actually predicted a quick bounce; it did, but went lower only days afterward
Josh Brown on Friday's Halftime said SNAP will get "closer to 10 than 20." (Oh joy, Facebook copied someone's popular product and ensured the world and the stock market and the Internet can be run by 4 companies whose stocks we own.) (This writer is long SNAP.)

Jon Najarian said WYNN and MPEL "bounced pretty significantly" after a harsh morning selloff.

Sarat Sethi said FFIV will tread water for a while.

Jim Lebenthal said there are "a lot of risks" to BA. (He said it was doing too well in the upper 100s.)

Jon Najarian said someone got into the July 76 MSFT calls that expire next week. And you know what? IT WAS SOMEBODY WHO HAD LOWER-STRIKE CALLS WHO CAME BACK FOR MORE!!!

Doc said July 96 calls in WDC were popular, and he also hailed Pete's great trade in NRG, "20 times your money on this one," Doc said. (And does anyone ever lose money on options?)

Doc, who correctly touted STZ in April, said he'd stick with the name.

Doc unfairly got Fast-Fired on his "terrible" pro-FL call. "I still am long it," he said.

Josh Brown said he thinks MCD can keep going unless there's a big shift in sentiment. (Always an important qualifier.)

Jim Lebenthal said to own GOOGL, but he said the question is, is it a growth stock; he says it is, for 2 reasons that aren't worth reporting.

Sarat Sethi said things still look good for UTX.

Josh Brown no longer likes FAST.

Jim Lebenthal said he's sticking with QRVO down 2% since his bull call.

Jim's final trade was the XRT. Josh said SCHW. Sarat said to look at JPM. Doc said BAC, and Tom Lee said T.
[Thursday, July 13, 2017]
In case you didn't know … SNAP MISSED ITS FIRST QUARTER AS A PUBLIC COMPANY!!
Judge opened Thursday's Halftime Report not with Amazon … but his panel's favorite punching bag.

Only this time, Judge brought in SNAP bull Scott Devitt in hopes of ensuring a fair fight. (This writer is long SNAP.)

Devitt did fine, but actually David Seaburg made a more intriguing case for the stock a couple days ago (hit PgDn a few times).

Judge said Devitt made a "gutsy call" to upgrade SNAP ahead of the … drum roll … turn on the fire-engine sirens … lockup.

Devitt said why don't you guys get real and acknowledge that the lockup is priced in investors are "more educated" about lockups and that he's more optimistic on fundamentals than the market is.

Addressing a favorite slam by the Halftime crew — Mark Zuckerberg just DESTROYED this company after he offered $3 billion for it!!!!! (And how's the monetization of Oculus working out?) (And the monetization of WhatsApp) — Devitt contended that Instagram's gains are actually "additive" to the space rather than zero-sum.

Then there's the fact that BOTH Steve Weiss and Pete Najarian mentioned — the first-quarter miss.

"Certainly there's some credibility issue," Devitt admitted, but he pointed to FB and BABA having their own stumbles early as public companies.

Devitt asserted that the next 3 quarters present a "quite good setup" for SNAP.

Josh Brown claimed Devitt wasn't addressing the "real issue" … which is … user growth … advertising revenue … an anti-shareholder structure (snicker).

Brown acknowledged Google and FB have the same thing but have "proven" themselves to operate that way.

Devitt shrugged, stating that kind of structure is fairly commonplace. Brown insisted not at the IPO level, but Devitt said it is.

Judge insisted "everybody" is talking about the lockup (why, if everything's "decelerating" and the stock's going to single digits) and questioned for the 2nd or 3rd time why Devitt would upgrade ahead of it. Devitt said the issue is so "publicized" that the stock's potential comes down to other things.

Stephen Weiss said he owns SNAP puts because he couldn't get a borrow to short, then wondered why Devitt is using DCF analysis. "I don't know how to value a company other than a discounted cash-flow analysis," Devitt said. "On a relative multiple basis, I think the valuation is quite sensible."

Jon Najarian said there was a big surge in SNAP calls as well as puts. "There's gonna be a lot easier borrow" after the lockup, Doc said, predicting the 15% short interest doubles after the lockup.

Weiss noted … this one's really good … "this company missed out of the gate." He said DCF is "not appropriate" for this company; "I just think the fundamentals are just deteriorating." (Judge forced Weiss to define "DCF.")

Pete Najarian asked, "How do you miss Q1" (snicker).

Joe Terranova, who had a quiet show, said he'd rather buy TWTR than SNAP, a totally fine point ... but he scoffed that Instagram has 200 million daily users and Snapchat has 1 million daily users (um, wouldn't SNAP have more upside then) and scoffed at anyone being a "hero" by riding SNAP from 16 to 17. (A. Fast 6% returns are apparently beneath Joe; B. So much for Mike Khouw pointing out on the 5 p.m. show that options are pricing in an 18% move in a month.)

Josh Brown said Devitt's target is 22 and questioned the "risk" in seeking 5 or 6 points.
Pete insists SNAP is going to 'single digits,' then says 'towards the single digits'
On Thursday's Halftime Report SNAP discussion, Pete Najarian boasted, "I've been saying for a while now that I think you're gonna see single digits, and I think that happens after the lockup."

But on the 5 p.m. Fast Money (Pete did both shows), Pete was backpedaling like the DBs for Minnesota in that 1983 game with Nebraska, stating, "I'm still of the belief that this is a company that goes towards the single digits."

Ah. So within a few hours, we went from "single digits" to "towards the single digits."

Pete on the 5 p.m. show hilariously claimed, "The fact they're going after the behemoth and the behemoth is going right after them, I think that kills 'em, right away."

"Kills 'em right away" ... why weren't they killed right away years ago when they turned down a $3 billion offer? (And why do purportedly free-market champions cheer some behemoth, already mega-rich and too influential entity blatantly copying someone else's product simply so that said entity can ... control all of Americans' social (and fake news) media instead of just most of it ... then again, pundits occasionally sort of root for Amazon to wipe out entrepreneurs ("They should raise Prime to $99; I know I'd pay that!!!!") so that the whole stock market can consist of 7 stocks, so whatever ...)

On Halftime, Pete gave SNAP bull Scott Devitt a piece of advice: "I think Scott's call should've been, after the lockup, that will be the time to buy," Pete said … so lessee … the stock's going to single digits … or "towards the single digits" ... but buy it after the lockup … so presumably it's going to single digits during the lockup expiration … which means all the suckers are the insiders who will be racing to unload in single digits at lockup expiration only to have that really be "the time to buy."

Stephen Weiss said the stock is "far below" its offering price. A huge one dollar and 41 cents.

Josh Brown said the "worst thing" for a SNAP investor is to see it go to 19 and then roll over.

The conversation took the first 13 minutes of the program, which is actually better than even AMZN often gets.
Judge at least twice assured viewers that they know from 'your experience' that presidential joint press conferences are sometimes delayed
Unimpressed by Target's outlook, Pete Najarian on Thursday's Halftime Report said retail is "everybody and Amazon." (That Amazon reference came in the 14th minute of the program.)

(Amazon, see, is dubbed "essential" by Fish's ETF, because if it didn't exist, you'd have to buy stuff from … walmart.com, macys.com, eBay …)

Josh Brown said TGT is merely talking about beating lowered guidance.

Stephen Weiss said people who bought M at a 5% yield are "really underwater."

Weiss though said he bought AZO; "why not step up."

Karen Finerman, turning heads with a chic black/white ensemble on the 5 p.m. Fast Money, said, "Maybe for some of these retailers, I think that bottom is in. For the, for the grocery, I- I think it hasn't played out yet."

Back on Halftime, Jon Najarian would sell the GPS "dead cat bounce" but would stay with PVH.

Weiss said probably every player has owned TEVA, but it's still a "decent story."

Pete Najarian said WDC is "absolutely" winning the battle with STX. He'd stay away from STX, but he hung a 100 on WDC.

Josh Brown said YNDX moves in "lockstep" with the Russian stock market in general. He wouldn't buy it on the "smart decision" by Uber.

Joe Terranova said TROW's did an "excellent job" of defending the active-management story; he said all asset managers are "building positive momentum."

Doc said DAL missed on the profit number and said potential buyers could "chew" on the fact it's not down much.

Sue Herera did Futures Now; Jim Iuorio said we're "somewhat at the late stages" of this dollar break and predicted support at 96. Jeff Kilburg said 94 is a "significant level." But he called 98 a "cap" and said to "play the range."

Doc endorsed PVH again.

Pete said he wouldn't be long LL anymore; Judge has completely ignored this very interesting stock story.

Josh Brown said JBLU is breaking "massive, multi-year resistance."
[Wednesday, July 12, 2017]
Yellen testimony preempts
Halftime Report
Wednesday's Halftime Report was completely (that doesn't happen often) wiped out by Janet Yellen. Missy Lee returned to helm the humdrum 5 p.m. Fast Money in which Mel labeled Scott Wren as "bearish in a world of bulls," only to have Wren protest, "I am modestly bearish, Melissa, don't put me in a big bear camp." (Translation: It's an '86 Mets market.) Wren actually said there are "4 headwinds" (snicker) but as always, we can't handle more than 3, so you'll have to look up video at CNBC.com to hear what they are. For once, the rip-roaring program didn't need a 4-minute commercial break at the 25-minute mark.
[Tuesday, July 11, 2017]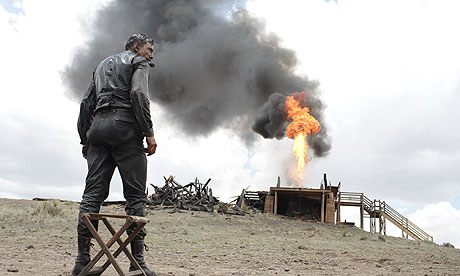 How come there aren't demands for investigations when the price of oil falls? (as opposed to when it rises)
Bob Iaccino on Tuesday's Halftime Report suggested short covering was occurring in crude and predicted Wednesday's numbers will disappoint the longs.

Scott Nations said the oil trend remains lower, and he predicts a 3-handle by year-end.

Joe Terranova said Jeff Currie, the last time he was on the Halftime Report, highlighted "the need for short-dated oil vs. long-dated oil to remove the contango, to go into backwardation. You have not seen that occur."

Joe said oil is range-bound absent weather or geopolitical shock.

Jim Lebenthal said you can buy some oil names for the dividend, mentioning 7% in Royal Dutch Shell.

Pete Najarian pounced on that, stating the dividend question is "dangerous" because, "You can give up 7% in a single trading day."

Jim tried to explain himself, but Judge kept interrupting him, a common theme of the program.

Steph Link said "certain companies" such as EOG and CXO can make money at 40-45 oil. Joe endorsed XOM.
Judge has seemingly lost interest in Bob Shiller's '50%' 'call'
Judge opened Tuesday's Halftime with Jamie Dimon's QE warning (Zzzzzzzz).

Steve Liesman said it "should be taken seriously."

Liesman said the Fed wants the market to "behave" and not be disrupted by this and will "turn it off" if there is disruption.

Rick Santelli said the Fed didn't get the growth it wanted out of QE.

Judge told Santelli and Liesman not to talk over each other, but actually Judge was talking over both, a trend that persisted through the entire program (why doesn't he do that to Tim Seymour instead). (Tim did manage to get a pat on the shoulder on the 5 p.m. show from Karen Finerman. If only that happened to all of us.)

Judge tried to cut off Joe Terranova, but Joe said (at least twice), "I think the issue and the concern is liquidity."

Jim Lebenthal asserted that even 3.5% on the 10-year "is not gonna upset this thing."

Judge told Pete Najarian it's "so overused," but don't investors need to look at "where the puck is going."

Pete said "absolutely," then mentioned the "Fred" (sic), then said the Fed has a "pretty decent handle" on what it's trying to do.

Judge noted what a story the Donald Trump Jr. meeting is "in and of itself" (sic needless and redundant).

Karen Finerman, in chic gray and new hairstyle on the 5 p.m. Fast Money, said the most interesting D.C. news was Mitch McConnell delaying the Senate recess.
Can't believe Scott Cohn didn't name Amazon 'America's top state for business'
Pete Najarian on Tuesday's Halftime reverted to one of his favorite punching bags, the nearly daily disaster called SNAP. (This writer is long SNAP.)

Pete reiterated that SNAP was already "decelerating" at the time of the IPO. "I think there's further downside," Pete said, predicting "single digits at some point."

The only thing about that, Pete and his brother touted all the big call-buying in SNAP just a couple months ago.

Now, he's calling it based on his fundamental analysis.

Pete noted during the program that someone bought 5,000 July 32 calls in YELP. Pete's fundamental call on that name was that it has "zero debt," and people who travel "use Yelp a lot."

Jim Lebenthal said SNAP doesn't have the user growth.

"They missed the quarter right out of the gate. That's all you need to know," Stephanie Link said. "I think you wait until the lockup and then you see where the dust settles, and then I think it could get interesting if it pulls back enough."

Joe Terranova said SNAP is getting "crushed by Instagram."

David Seaburg on the 5 p.m. Fast Money articulated an interesting SNAP buy call, suggesting the company can't afford to bomb Q2 and so it's taking down expectations, and he called the Morgan Stanley downgrade "a setup for a buy into earnings when they report on August 15th."

But panelists highlighted competition from Facebook (in 2012, it was all about how "kids don't care about Facebook anymore"). Guy Adami suggested that nothing really changed from Morgan Stanley being the SNAP underwriter and now issuing a downgrade (see, if this were 2001, people would be demanding to see internal emails on that subject).

Joe also said he heard a $2 target on APRN. Link said she can't believe the IPO even got done. "This has the feel of Groupon," said Jim.
Viewers get lesson during AAPL chat of basic supply-demand
Sherri Scribner dialed in to Tuesday's Halftime, saying AAPL expectations might be too high; "they're losing share in China."

Not referring to any call-buying this time, Pete Najarian said AAPL has lost share in China but suggested there's "pent-up demand" and said "unit sales actually have been on the rise."

Judge noted there's speculation the new iPhone will cost $1,200. Scribner said, "Basic supply-demand suggests that if the price is that expensive, there'll be less demand."

Jim Lebenthal said Scribner is entitled to her opinion, but he expects a big upgrade cycle.
Did we go an entire program without AMZN?
Jim Lebenthal on Tuesday's Halftime asserted that the departure of JCP's CFO is "not a big deal" and that the story misses the lede of the press release in which the company expects "significantly improved top-line results this quarter."

Pete Najarian said he's a "bit negative" on KORS even though he owns it. (Karen Finerman at 5 p.m. had to defend that one and address the horrible performance of FL.) (This writer is long FL.)

Stephanie Link said "I kinda get" the Barclays cut to homebuilders; she likes SWK.

Joe Terranova claimed FDX is actually an "AI play." Link said she's been adding to it in the last couple weeks.

Link said she prefers UNP but likes CSX. Pete said he likes the space and is in KSU.

Addressing a spectacular recent call, Jim said "I think you've got another 15%" in WGO. "I think this goes to 40."

The lone panelist to receive a Fast Fire, Joe Terranova said SYMC actually went up to 33 after he recommended it in April at 30. Joe said if you're in it, keep holding it.

Pete's final trade was WDC. Joe said CXO. Steph said DOW. Jim said GS.
[Monday, July 10, 2017]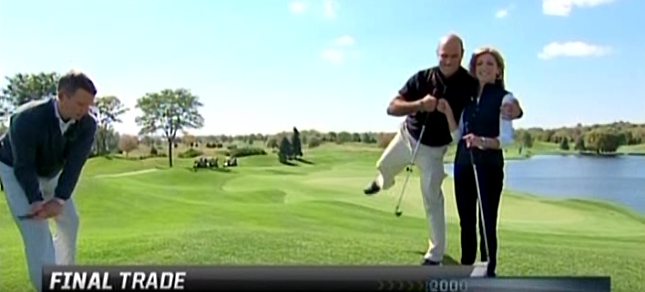 1-2 years ago, the retail narrative was that customers are spending on 'experiences,' not 'things,' but now the narrative is the 'Amazon Effect'
Judge on Monday's Halftime noted that BMO downgraded COST.

Pete Najarian mentioned "the Amazon Effect" (23 minutes into program) and said he's been "patient" with COST, but he hasn't seen the "commitment" to the stock in the options space.

Josh Brown said COST has a 28 multiple but a 23 RSI. Josh said to "wait for a higher low in price."

On the 5 p.m. Fast Money, superfox Karen Finerman said "it wouldn't be so, so shocking" if AMZN bought FDX or UPS; think "how accretive that would be." (1. Imagine regulators examining whether Amazon packages were getting delivery priority over walmart.com packages on Dec. 23.) (2. Amazon probably would rather buy some entity in the Self. Driving. Car. space.)
Pete struggles to explain how he really knows that put buyers are bullish
Pete Najarian on Monday's Halftime said July 65 puts in ICE were being bought "very aggressively."

Of course, "I don't think that's somebody who's negative," Pete said.

Judge finally had the brass to ask Pete the question, "How can you tell whether somebody is protecting a position like you just said rather than taking a negative view."

(Answer: Options buyers NEVER think a stock is going to fall.)

"Well, uh, I'm just interpreting what we know news-wise, what we've seen happening with the stock, in the m- the move to the upside, the momentum of the year so far year to date, to the upside, that would be my opinion, would be, that would be what I would be doing (sic grammar)."

Pete said July 17 calls in NRG were popular.
Judge: 'Trading sucks'
Pete Najarian on Monday's Halftime said there's more risk being out of the market than in and predicted (yep) great things from JPM's earnings and pinned a 26 on the XLF.

Judge insisted there's a "threat" from rising rates, which is curious, given that he has spent pockets of 2017 pointing to a sinking 10-year yield and asking (not exact words), "How can stocks keep going up when the 10-year keeps falling??!?!?!!!"

Pete gushed about the homebuilders but was unable to tell Judge why banks are going to be great, other than pointing to call-buying (which also indicated that SNAP was going to blow out its last earnings report). (This writer is long SNAP.)

"Trading sucks," Judge asserted.

"Trading does not necessarily suck by the way," Pete responded.

Josh Brown said of banks, "You will see a re-rating in this space," then touted SCHW again.

Brown also said "there really isn't any resistance overhead" in JPM.

Brown said investors should be "primarily" focused on stock prices, not "forecasts and headlines."

Erin Browne said "things are getting better," and "this is the time you wanna be invested in markets."

Jim Lebenthal said a recession is "not on the horizon."

Jonathan Krinsky said "it probably makes sense" to start buying technology.

Judge said Tony Dwyer raised his S&P target for 2017 to 2,510 and 2018 to 2,800. But Judge said the 5 p.m. Fast Money, not Halftime, landed Dwyer for an interview Monday. (#internecinebookingwars)

On that 5 p.m. Fast Money, Dwyer said, "The animal spirits are alive not because of politics. It's because that small businesses and large businesses are now convinced that you're not gonna have higher taxes and more regulation."

Dan Nathan said it seems there's a "level of complacency" in the stock market and "near-euphoria."
Josh thinks it's a 'joke' for Jim to tout INTC's presence in self-driving cars
Judge on Monday's Halftime not only took up Everyone's Favorite Subject (Amazon), but Everyone's 2nd-Favorite Subject (Self. Driving. Cars.).

Judge said Intel was downgraded by Jefferies. But Jim Lebenthal said the call misses the MBLY acquisition.

"I really don't see a reason to be anything other than long the name here," Jim said, not at all a surprise.

Mocking Intel's presence in Self. Driving. Cars., Josh Brown kept asserting that NVDA's "data-center customers have grown 8-fold in a year. What has Intel done in 20 years that could compare to that."

"Wait a second, wait a second," Jim cut in, adding "they're doing different things" in cars and telling Josh it's not true that both MBLY and NVDA can't succeed in self-driving cars.

Josh accused Jim of "changing my argument," adding Intel is "so far behind" that "to even compare the 2 in, in autonomous vehicles, is a joke."

Judge said "in and of itself" (sic completely redundant and unnecessary) when mentioning NVDA on the 5 p.m. Fast Money.
Judge finds another champion of mean reversion (cont'd)
Nili Gilbert on Monday's Halftime told Judge the 3 characteristics of "rocket stocks" (highly volatile, highly expensive, negative operating cash flow).

Judge clarified that "the FANGS" are part of that. Gilbert said NFLX is a "real rocket stock" as opposed to FB.

Gilbert said if the market goes higher, there figures to be a change in leadership. But she conceded "rocket stocks" did well in Q2, but in June, "we saw value start to turn around."

Gilbert likes VRSN and LYV because they are "asset-light" and touted the buybacks of VRSN. Judge asked her for LYV reasoning in "10 seconds," but Gilbert launched into a description of what the company does before touting the "efficiency" of LYV's capital expenditures.
The other retail refrain is that Home Depot and the auto-parts stores are safe from the Amazon Effect
Pete Najarian on Monday's Halftime said a $1,200 iPhone8 wouldn't have the negative cost impact some think.

Jim Lebenthal said $1,200 is probably not the "pain point" where sales are lost.

Jim said you can "hang on" to ADBE but if you don't own it, "I wouldn't load the boat here." (Those 2 statements are kinda contradictory.)

Erin Browne said to stick with IWM.

Pete said HD still has a lot of upside, and he plans to look at getting back in "very shortly."

Josh said the launch of the new anti-brick-and-mortar ETFs suggests maybe the space is at a bottom, but then he thinks the space might have more to go lower.

Pete's final trade was PEP. Jim trumpeted SNE. Josh mentioned ALB and Erin suggested EMB.

Guest-hosting the 5 p.m. show, Judge took less than 1 minute to bring up "Amazon."
Amazon Prime:
Cause … or effect?
Monday is supposedly another big day for The Stock Everyone Loves to Talk About, AMZN.

It's "Prime Day," which purports to be a day of great online deals. (You're going to be hearing about this on CNBC this week even more than you'll hear about "Shark Tank.")

One frequent narrative on CNBC and in other business media is that (not exact words), "omg, Prime members buy SOOO much more than other users."

Presumably, that's correct, as one article claims, "New data from the Consumer Intelligence Research shows that customers who spend $99 for an annual Prime membership go on to spend an average of $1,300 per year with the retailer, nearly double the amount spent by non-member customers."

The implication among AMZN bulls is that once people purchase Prime, they start ramping up their spending.

But what if Prime is merely an obvious choice for people who are already buying a bunch of things on Amazon?

Let's say an auto shop offers a $50 annual payment for as many oil changes as you want.

The people most likely to take advantage of this offer are those who already get 3 or more oil changes a year … not those who get 1.

And when people start getting 17 oil changes in a year, it starts to become counterproductive for the shop.

It seems the most bullish financial case for Prime would be people who buy it but then rarely use Amazon. As Jeff Macke and others used to say on the original Fast Money, selling gift cards that aren't redeemed is like "selling air."

A Prime subscription, unlike a health club membership, isn't needed to enable Amazon shopping. It's a regular cost/benefit question for each user as to whether the shipping savings and streaming options are worth $99 a year. (It used to be less, then everyone on CNBC said, "Oh, I don't know why they don't charge $99, I would SOOOO pay that, but I wouldn't go into the hundreds.")

The fact Prime members spend more in general than non-Prime members? Whoop de do.

We'll catch up with Monday's Halftime later.
[Friday, July 7, 2017]
Lots of Jim's clients complaining that Trump White House is 'Bizarro-land'
Judge's Halftime Report on Friday, a mild upgrade of the previous day's stumble, tackled the notion of whether the stock market's unstoppable.

Steve Liesman said the Fed has a "very chill outlook" and noted despite "full employment," wages haven't taken off.

Grandpa Kevin O'Leary grumbled about the lack of participation by mid caps and small caps and said he's bullish on that space.

Rob Sechan contended there's still "huge mistrust" about the length of the expansion and low volatility.

Jim Lebenthal agreed. "There is a fear of this market, and it actually does center on Trump," Jim said. "A lot of clients have called up and said, 'Look, I- I- it's Bizarro-land, I wanna take money out of the market."

Liesman said the one danger is "unexpected inflation."

Liesman mocked Jeff Gundlach's notion of 2.60 putting the brakes on the market; Liesman and Josh Brown agreed that 3.5% or 4.0% would be a problem but that it "depends on the speed" (ding-ding-ding).

Jon Najarian noticed people buying "a lot of puts" in TBT on Friday.

Josh said the XLF is making its "highest close on a weekly basis" since October 2007 while the XRT looks to be "hanging by a thread."

Doc said he called NFLX's recovery a week ago but that AAPL "might still be the best buy in the bunch" of FANG-esque names.

Rob Sechan said he's maintaining the "barbell" overweight on technology. Sechan contended that tech typically trades at higher premiums to the rest of the market than it is now. "You don't have excess built in tech," Sechan asserted.

Sechan's also overweight financials and energy. Sechan claimed "some of these technology companies are actually energy companies." (Other than Tesla, we're a little hard-pressed to name them.)

Sechan trumpeted Europe (and whatever happened to Greece and MCC stationed outside parliament while people flashed green lasers).

Judge mentioned "in and of itself" again.
Judge should just devote first half-hour each day to AMZN, ask panelists, 'Should you buy it today … or wait 'til TOMORROW??!?'
The first Amazon mention of Friday's Halftime came from Jon Najarian at the 7-minute mark.

Later, Judge said AAP actually got an upgrade. Sarat Sethi said the space is the "classic Amazon." Jim Lebenthal said the only thing that will "ameliorate" the Amazon presence is that 1-day delivery won't cut it in this space, dealers and repair shops need the parts immediately.

Doc said a lot of folks who have missed TSLA are talking about taking a shot at 300. Josh Brown said he bought ALB, one of the "kings of lithium," this week.

Sarat Sethi said QCOM will jump higher than AAPL if there's a settlement.

Josh Brown said LUV is fine but he happens to own JBLU.

Doc said SNCR "in all likehood" will take the buyout offer.

Jim said WGO made a "home run" acquisition and that the economic cycle is a "perfect sweet spot" for RVs.

Doc said January 39 calls in DHI were popular.

Gorjus Leslie Picker reported newer hedge funds are outperforming older ones.

Jim Iuorio said the "Japanese thing" isn't getting enough credit as a "risk-on signal." Brian Stutland said if dollar/yen crosses 117, there'll be a "huge push" into the dollar.

Doc predicted JPM 100 next week. Jim touted IWM. Josh reiterated ALB and KSU, Sarat pointed to DAL, and Doc said he bought GOOGL during the show.
[Thursday, July 6, 2017]
Can you imagine anyone launching an index and NOT including AMZN? (a/k/a how 'essential' is Amazon anyway … is there no other place to buy a book …)
For Thursday's Halftime, Judge unleashed an absolute clunker.

The proceedings were so boring, even star guest Fish started checking texts.

Strangely enough, Mark Fisher, with no pushback from the panel, tried to paint as a victory one of the biggest laughers in recent stock-market history — Rex Tillerson's $40 billion for XTO.

Fish told Joe Terranova that Exxon's XTO buy was actually a "good acquisition, but it was just terrible timing."

Wonder how that would work with other debacles: "Time Warner was smart to buy AOL; they just should've done it 8 years earlier." "Carly Fiorina and Léo Apotheker made brilliant moves to snag Compaq and Autonomy but should've waited for the prices to fall."

That conversation led into GE, and more "bad-luck timing."

Pete Najarian said, "I like Jeff Immelt. I think a terrific gentleman (sic grammar). But in terms of running the company, unfortunately a lot of bad luck timing-wise."

We're sure Chuck Prince, Dick Fuld and Stan O'Neal are terrific gentlemen; unfortunately they ran into bad timing in 2008.

Pete noted that when GE got into the energy space at 100-plus oil, "that was a huge mistake obviously."

Fish begged off on talking about nearly everything select stocks but indicated the risk/reward for GE now isn't bad.

Josh Brown said the GE chart is a "Picasso … there's nothing going on here" and indicated he doesn't want to wait for a turnaround. Pete, though, is willing to wait.

Fish suggested we might be in the "7th, 8th" inning of the bull market.

Jon Najarian said utilities have been "diving" since early June highs.

Josh Brown said to look at transports; CSX's chart is so "pristine" he's afraid he'll ruin it.

Joe Terranova, gamely fighting a scratchy throat, said, "Overall, it comes down to, what is the path and trajectory here, the central bank policy."

Mark Fisher said crude's range is low 40s to high 40s (or maybe low 50s).

Fish told Josh that the crude range could last "for a long time."

Fish said he likes nat gas most in the energy space.

Doc pointed out the high short interest in the VXX.

Joe asked Fish about the impact of rising rates on shale. Fish said, "Honestly that's above my pay grade."

Doc praised Liberty Interactive for "good timing" in buying HSNI.

Josh Brown said "it's still relatively early" for YUMC.

It was 31 minutes into the program when Pete said Amazon (ding-ding-ding) is "the whole story" with PSMT's recent chart.

Moments later, Joe and Fish discussed the possibility of Amazon entering the health care business. Fish questioned why there's no health care pricing transparency. Josh Brown said, "Amazon skips industries that have real regulation."

Fish explained how he put together an ETF of 40 "essential" stocks. The second one mentioned by Judge was "Amazon." But Fish complained of being "pigeonholed" in the ETF space. Josh Brown said the reason the ETF space is so "rules-based" is because rules-based is "critical" for advisor allocations.

Doc said July 110 calls in BUD were bought "in pretty big numbers," and the September 130s were bought in even bigger numbers.

Pete said MU October 35 calls were being bought. He said 20,000 August 17 calls in AMD were being bought.

Anthony Grisanti said because of the cheaper dollar, U.S. exports are at a 2-year high. Jim Iuorio said we're headed to 94.

Doc said 300 is "the next support" in TSLA.

Joe's final trade was MNST. Doc said someone sold a ton of puts in SEAS. Pete said they (somehow) hadn't talked at all about financials. Fish said he'd be long dollar.
[Wednesday, July 5, 2017]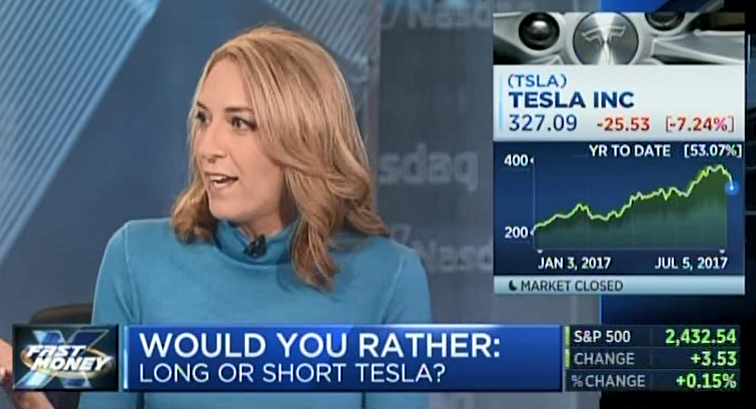 Karen unfortunately falls
into trader/investor trap
Jon Najarian on Wednesday's Halftime said Goldman Sachs has been missing the TSLA mark for a long time; he'd side with Guggenheim. Judge noted price targets of 430 and 180.

The 5 p.m. Fast Money spent about 20 minutes talking about Tesla, much of it from Tim Seymour, who (always) (for about 5 years running now) says the valuation isn't for him.

Karen Finerman, sizzling in turquoise top and white slacks, said the borrow for a TSLA short is "1.1%." She said if she had to pick a side on TSLA, she'd be short.

But Karen unfortunately made a common mistake of so many amateurs (and even many Fast Money/Halftime panelists), addressing whether TSLA is a no-touch: "It really depends on what kind of investor are you. (No, no, no.) … If you are in the long-term story, then it's a touch … If this momentum in the stock, which has been enormous, is what brings you to it, then I'd be more afraid."

Um ... how do we break the news and put it nicely ... 1) TSLA shares do not care if the individual purchasing them is a "long-term" investor" or "momentum" trader. 2) The shares cannot go more than 1 direction at the same time. 3) Either TSLA is going higher, or going lower, and in case of the latter, if you are a pending buyer of any persuasion, you should most certainly wait for the presumed better price.

Back on Halftime, Jim Lebenthal said (again) he's called GM a "Rodney Dangerfield" stock (note to Judge: further evidence the show should go once a week), "but it's poised for further gains at this- at this valuation."

Steph Link said ORLY was taking a hit on ecommerce concerns.
It took only 7 minutes to mention 'Amazon' on Halftime Report; just 5 minutes on the 5 p.m. Fast Money (and those were after reports by Bob Pisani and Phil LeBeau)
Summoned for Wednesday's Halftime Report, Ike Boruchow began by stating how bad retail has been (for those who aren't aware).

"At the end of the day though," Boruchow said, Q2 was better than the Q1 "disaster."

At the top of Boruchow's list is PVH. Judge noted PVH is up 9% for the month, and maybe Boruchow is merely making a momentum call. Boruchow conceded that in part but said PVH is only up for a couple weeks. He also likes LB and HBI.

As for off-price retailers, Boruchow called the pullback on the "Prime Wardrobe announcement" interesting for a space that's insulated. Steph Link called TJX "underowned" and said it has better risk/reward than PVH. Boruchow didn't argue but said "owning the brands is kinda becoming sexy again."

Boruchow has an underperform on FOSL, a stock no one has mentioned or would admit owning for at least a year, predicting "tough sledding."

Pete Najarian is not in TJX but still likes it. He touted BBY.

Jon Najarian said he's been "back and forth" in M; he likes it but doesn't like Wednesday's action.

Jim Lebenthal called TIF a "great name" and again mentioned TSCO.

Jim doesn't want to worry about "fashion trends" with names like RL and KORS.

Joe Terranova suggested high yield will signal when retail stocks are ready to stabilize.
Clinton got them to freeze plutonium while they secretly enriched uranium; Obama looked over the border with binoculars
CNBC's Morgan Brennan on Wednesday's Halftime said BA, RTN, OATK and AJRD are all part of the U.S. missile interceptor program. And any panelist worth his/her salt would've immediately said that buying those stocks strictly on the basis of a North Korea test is ludicrous.

In the space, Pete Najarian suggested LMT. Steph Link likes GD. Joe Terranova predicted increased international defense spending and likes NOC.
Who knew — people were buying puts, but it's actually a bullish move
David Seaburg on the 5 p.m. Fast Money said he went to a movie Saturday night with his son, and "nobody was in the theater, empty."

Tim Seymour admitted, "My wife will not take me to a movie."

On the Halftime Report, Pete Najarian said he thinks ORCL goes higher; he's just waiting for a pullback.

Joe Terranova said MORE is a story of asset classes, though REITs aren't sexy. He likes ESS and AVB.

Jon Najarian said ETE August 18 calls were popular. Pete said 7,600 August 30 puts in TEVA were being bought, "not 'cause they think that stock's gonna pull back" (because no options buyers ever expect a stock to go down), but to protect positions.

Doc said "there's a lot of demand" for rail car space, pointing to steel stocks. Pete's final trade was railroads.

Steph Link called MT "a special situation" of a restructuring story.

Link also called EBAY a "restructuring story," stating it can buy more stock.

Doc suggested TLRD, mentioning "Joseph A. Banks (sic plural)" and citing January 15 call-buying. Jim Lebenthal likes QRVO. Steph Link likes DB. Joe Terranova's standing by COST; he also mentioned DNKN and HBI, "believe it or not, millennials, that's their favorite brand, Hanesbrand (sic not plural)."
Losing money is always better when it's 'defined'
Revisiting a trend he mentioned just recently, Jon Najarian on Wednesday's Halftime Report declared, "Every single time I've bought an energy stock this year and held it for more than 2 days, I've been smacked."

Doc said he's an "addict" for these types of names, but Joe Terranova explained that "people are overcomplicating energy."

Pete Najarian said Doc got his "face torn off" on energy options, "but at least he had a defined risk" (snicker).

Joe said what's going on in the Koreas is "detrimental to demand" for energy.

Scott Nations said Russia's position on OPEC cuts wasn't helping oil.

Jeff Kilburg said oil shorts targeting 42 "got their faces ripped out" or "claws plucked." He said we're in "no-man's land."

Commercials promised Fish would be on Thursday's Halftime. Dennis Gartman on the 5 p.m. Fast Money pronounced oil's prospects as "dire." Karen Finerman said, "I kinda agree with him."
Joe: Banks were Q2 story;
growth tech is Q3 story
It wasn't exactly sexy.

But it was a lot better than 8 hours of "Shark Tank." (How in the world does anyone keep watching those?)

Judge returned to the Halftime Report on Wednesday, leading off with Bob Pisani, who said, "It's early, I don't wanna make too much of it," but earnings might be better than thought.

Pete Najarian said banks "continue to be the place to be."

But Joe Terranova, refreshingly back after a break, said financials were only the "great trade" of the 2nd quarter. "OK, maybe that trade is over for Q3," Joe said, calling growth technology the "obvious" choice for this quarter.

"I think Apple is a screaming buy right now," said Jim Lebenthal, but he thinks you could wait a bit on AMZN. "The risks are geopolitical," Jim said.

Jim said it's been "sustained" for 18 months that value has outperformed growth.

Nevertheless, Stephanie Link predicted we'll see value "mean-revert."

Jon Najarian predicted a "2nd-half story" from Congress (snicker).

More from Wednesday's Halftime later.
[Friday, June 30, 2017]
Erin Browne calls Tom Lee's
long trade a short
Tom Lee on Friday's Halftime spoke about the "CRAP" trade said investors have rightly been "pretty skeptical" of the telecom space.

But he thinks "telecom credits have held up really well," suggesting a bull case. He called the disparity with utility credit/stocks "sort of the setup here."

Whatever the top-line growth, "The companies can solve this, the cheapness of their stock by doing a huge buyback," Lee said.

Jim Lebenthal suggested there's a "heckuva lot of top-line pressure on these guys." Lee agreed and suggested consolidation would fix the "structure."

Josh Brown said it's hard for him to see real momentum in telecoms. Erin Browne bluntly called telecom a "source of funds" and looks at the sector as a "short opportunity."
Nike already was Amazon's
most-purchased brand
NKE was the talk of Friday's Halftime, although this time at least there was a reason.

Jim Lebenthal has frequently mentioned wanting to fill the 2nd half of his NKE position under 50.

"I bought a little bit more," said Jim, who said he really wanted to "load up the boat" on the stock but wasn't going to chase.

"I've got a lot of dry powder left to go in this name," Jim assured.

Nobody was getting euphoric on the name. Josh Brown said the last 2 times NKE had a big quarter spike, "it kinda petered out around 59, 60." He added, "I don't know that I'd be buying it here."

Jay Sole of Morgan Stanley said "we continue to see sales trends decelerate" for Nike in North America.

Sole's most interesting comment was that, despite the Amazon hype, "Nike's already very big on Amazon. Nike is the, the most purchased brand on Amazon of any brand."

Erin Browne said she doesn't want to be in consumer discretionary right now.

Jon Najarian said that a day ago, people were "aggressively selling puts in Nike." He added, "I was short puts, long stock, short calls at the 55 strike, so I had to cover that today Mel."
Jim plans to buy TSCO next week
Jonathan Krinsky on Friday's Halftime predicted "a bit of a rotation out of growth into value."

Jim Lebenthal predicted the recent rotation will continue, with a "margin of safety in the valuation and yields."

Jim suggested TSCO for its "tremendous growth" opportunities. "I think next week I'll be in this name," Jim said.

Jon Najarian said he thinks DHI has upside.

Doc said someone who profited in LULU calls bought August 55s.

Doc said CBI made a 50% move in 3 days.

Josh Brown affirmed SCHW appears to be on the verge of a "major breakout." The only thing is, he keeps saying that, and we keep wondering, what's the growth in online (admittedly redundant) stock trading?
Stocks fail to celebrate
Judge's 'FANG Week'
Guest host Missy Lee only briefly took up the week's purported Halftime topic, FANG, and its disappointing week on Friday.

Erin Browne said she'd "probably be a buyer" if FANG is down another 5%.

Jon Najarian likes NFLX and AAPL.

Adding fuel to the notion that the Halftime Report could be/should be only a weekly program, Jim Lebenthal again said he's been "pretty specific" that FANG stocks actually have different PEG ratios.

Jim said this is a "good opportunity" to buy GOOGL.

Nobody on the panel owns TSLA; Josh Brown said "civilians" shouldn't be in the name.
Doc buys NVO calls
Jim Lebenthal on Friday's Halftime Report said the market thinks Coach "is gonna outperform on a fashion basis."

Josh Brown said MU found buyers at the 50-day.

Jon Najarian said the steel names are making "another slower grind to the upside" than the post-election spike.

Josh Brown said he's in KSU; "above 105, there are no sellers."

Erin Browne said she likes industrials, energy and banks and suggested a "barbell" (cliche) approach with tech when there's a selloff.

Browne predicted higher rates and a lower dollar and suggested energy.

Karen Finerman on the 5 p.m. Fast Money said she's staying in banks. (Zzzzzzzzzz)

Josh Brown reaffirmed his call for overseas stocks.

Doc said he bought NVO calls.
[Thursday, June 29, 2017]
O'Leary: Massive buybacks show banks don't have anything to do
A day ago (hit PgDn), we pointed out how someone on the Halftime Report made, or walked into, the same point this page already made a day earlier.

Imitation is a wonderful form of flattery, so we were smiling when we heard Kevin O'Leary declare on Thursday's Halftime in terms more blunt than what this page used a day ago (PgDn), "These massive stock buybacks from money-center banks is (sic singular) basically telling every investor that they don't have anything better to do with their capital than buy their own stock back."

Exxxxxxxactly. (Despite how Karen Finerman portrayed it Wednesday.)

"I'm sorry, that sucks," O'Leary said.

Jon Najarian bought more JPM calls Thursday even though he said a day earlier he plays the XLF because "I've been burned trying to pick individual stocks in this space."
Doc: 2% FANG haircut possible
Kari Firestone on Thursday's Halftime Report curiously said that "part of the reason the market keeps going higher [is] because we haven't been able to substitute stocks for bonds."

Oftentimes Sometimes we have our own mental bungles here. But we have a hard time figuring out how the "market" (presumably stocks) is going higher because people are still buying bonds instead.

Jon Najarian said, "I think people just decided to take a little off at the end of the quarter" and that the U.S. market experienced some spillover from Europe.

Doc said he wouldn't be surprised if the FANG stocks get a "haircut" of about 2%.

Josh Brown said we're "seeing money rotating to some of the cheaper areas (snicker) of the market, and it's a good thing."

Kevin O'Leary said tech isn't going to correct, then he said it does correct every once in a while, but those are buying opportunities.

Mike Farr said the "key" is that the consumer has "cheap money."

Josh Brown got a round of applause (rare on the program) for an Investopedia honor.
Ackman presumably has found more worthwhile things to do than spend his time focusing on VRX going to 17
Guest host Brian Sullivan asked Thursday's Halftime panel about TTWO and ATVI, stocks that none of the panelists care about in the slightest because the panelists don't play video games.

Kari Firestone said, "If Activision was down 25%, I think we'd all find a reason to buy it." We doubt that.

Kari Firestone pounded the table for STZ, an undeniably spectacular stock of the last several years.

Jon Najarian said there was unusual activity 3 days ago in FOXA.

Josh Brown said EBAY is "just fine."

Kevin O'Leary said every player in the APRN space is losing money but that consolidation would help.

"Beer is a, is a zero-growth story around the world," O'Leary said, adding BUD is the best way to play it because of cost-cutting.
Kari Firestone: Government's RAD position gives AMZN advantage
Kari Firestone made a bold statement on Thursday's Halftime, saying of RAD, "Oh, gosh. This is really tough for these guys. The government isn't helping them; they're helping Amazon. It's another case where the digital Internet players get the advantage, and these guys have a long way down to go still."

(And we thought we might go an entire program without a mention of "Amazon.") (We did actually go a whole program without NKE.)

Mike Farr will continue to hold GOOGL.

Sully called the SPLS deal a "head-scratcher." Jon Najarian said it puts "a lot of pressure on ODP."

Gene Todd said he thinks technology has a lot more room to run. "Most of the run is based on corporate earnings," rather than government potential (snicker), Todd said.

Kevin O'Leary took the opportunity to tout ETFs.

Doc said someone bought 13,000 July 30 calls in NFX (that's correct, NFX not NFLX).

Jeff Kilburg addressed a raging issue in the markets — the price of wheat — and explained there are 3 kinds of wheat with different levels of protein. He said there's a "kind of a double whammy here," but we don't know what the double whammy means. Jim Iuorio predicted higher short-term prices, "5 and a quarter."

Doc likes CHTR. Josh Brown said SCHW is "what a breakout looks like." Kari Firestone touted COST, Mike Farr said LOW, and Kevin O'Leary mentioned one of his ETFs.
[Wednesday, June 28, 2017]
After 5 minutes of conversation, still not really sure what Adam Jonas was talking about
Adam Jonas, who has an overweight on GM, told guest host Melissa Lee on Wednesday's Halftime Report that "the race to autonomous driving Melissa is a race for miles, quantity of miles and quality of miles."

Hmmmm, OK. So there's a "race" to acquire autonomous driving miles … and not just the highest "quantity" of those miles but "quality" of those miles.

Jonas (picture above is not from Wednesday) said Tesla does 5 million miles per day, Uber does 100 million miles per day, and GM cars collectively do 2.5 billion miles per day. (Um, if our reader-comprehension skills aren't too rusty, we'd point out that Uber doesn't actually manufacture automobiles to our knowledge, so part of the Uber total overlaps with GM.)

Jonas curiously said the challenge/opportunity for GM is to "harvest" those miles and "monetize" them.

OK. Any chance that's another way to say GM needs more market share?

How does an automaker "monetize" a mile? Charge you a subscription toll rather than a purchase price?

Jonas went on to categorize into a part called "GM Revolution" (snicker, that's what he actually said) and "GM Evolution" (double snicker, that's what he actually said) and then said it's about how to create "transparency" to get "paid for that."

He said that might involve tough decisions about getting rid of things.

Then he said "it's more creating structures, and, um, currency."

Say what? GM's creating currency now?

Jim Lebenthal praised Jonas for having an "edge to what you're putting out there" but noted Jonas' lower GM estimates for 2018. Jonas admitted, "If they don't do anything, this is not a buy." (Ah. Now we're getting somewhere.)

Pete Najarian said F and GM have been "value traps" and that it's about "execution." Stephen Weiss said he would "probability-weight that," and he'd rather be short those names than long.

Well, it's really as simple as this. People don't give a hoot about GM or Ford or Chrysler building self-driving cars. They only care about Tesla, Google, Apple and maybe Uber or Amazon building self-driving cars.
If AMZN or FB were doing 'enormous' buybacks, would that be a reason to buy the stocks?
Karen Finerman, outstanding in blue/white combo on Wednesday's 5 p.m. Fast Money, gushed about the "magnitude" of the "huge" or "enormous" C buyback. "That's really positive," Finerman said.

Prior to the stress test, guest host Melissa Lee reverted on Wednesday to the most tiresome cliche of the Halftime Report, the notion that virtually all the big banks are buys.

Steve Weiss said he owns C, BAC and LUK (Zzzzzzzzz). But, "I'm not adding to them."

Jim Lebenthal cautioned that good news is already built into CCAR. But he likes C and BX.

Jon Najarian said he's been only in the XLF, because "I've been burned trying to pick individual stocks in this space."

Nobody expressed any interest in buying XLE. But Kourtney Gibson said if you're in it for the long term, this is "absolutely" the time to buy, which really doesn't make any sense if you think it's going down in the short term. Pete Najarian said "everybody's trying to buy the bottom" in energy options.

Jim Lebenthal said the performance of gasoline vs. crude makes him believe refiners are cooking, such as MPC and VLO.

Doc had a great shirt & tie combo; Weiss had no reason to knock it.
This page: (Way) ahead
of the news
Guest Michael Lippert on Wednesday's Halftime Report told Kourtney Gibson, "I'm asked all the time now about, you know, quote-unquote whether we're in a bubble today like we were, you know, in 2000. But technology is SO different today."

This page called out that kind of nonsense (not Lippert's answer, but the question he gets, which cements the conclusion most people don't have a clue) a day ago (just PgDn).

Wednesday was Kourtney Gibson's day to say, "Absolutely, if Amazon drops, I'm in it all day long."

Steve Weiss mocked the Trump-Washington Post controversy, stating, "I'm sure Jeff Bezos approves every article, every byline and every picture" in the Washington Post.

Lippert declared the Trump-WaPost controversy "just noise."

Jim Lebenthal questioned if "legislative and judicial bodies" might find a "monopolistic issue" with Amazon. Lippert shrugged that it didn't change Microsoft; that company stalled because "they didn't understand how the Internet and mobile was changing," not because of DOJ fines, and he doesn't think government overhang will have "any effect" on these companies.

We're hard-pressed to identify "monopolistic" behavior by Amazon; nothing's stopping anyone from creating the same thing.

Pete Najarian told Lippert he's been calling the acronym FANGMAN. Lippert said BABA is like "the Amazon and Google of China." (Funny how nobody was really saying that $80 ago in the share price when the story was all about opaque accounting and faked goods.)
Jim touts MSG, suggests it's bound to go private
Anthony Grisanti on Wednesday's Halftime Report said it's "hard to explain," but the reason gasoline is cheaper in June than January (this year and last year) is because of fracking.

Jim Iuorio predicted RBOB has broken the short-term downtrend and heads toward 152/153.

In the most interestingly effusive call of the show, Jim Lebenthal said MSG is "severely undervalued" and doesn't need the Knicks to move the stock. "I love it at this price," Jim said.

Jon Najarian said he's long GIS calls, "knock on wood." But, "I'm out of it here though" because it was $2 higher in premarket and not so high during the day.

Steve Weiss said KBH and PHM are doing well, but he's missed that trade.

Pete Najarian said WDC could be worth $120.

Kourtney Gibson said Loop Capital has had a buy on V and MA "for a while at this point" (sic redundant).

Jim Lebenthal said he doesn't worry about the FDX news. Weiss said "if it drops a lot, you buy it for a trade." Later, Jim even scoffed that the news would affect the stock at all; no one's fooled.

Jon Najarian said he's in CELG and BMY. Weiss likes XBI but not the PBMs.

Doc said August 65 calls in XPO were being bought and 70 XPO calls were being sold.

Pete said July 24 calls were the 8th time this month that X calls experienced unusual activity. But Pete suggested those buyers are "trading" rather than "investing." (Too bad, Weiss bailed when he thought it was oversold, presumably with a 20 handle.)

Doc said the notion that the delayed health care vote sank Monday's stock market was "complete crap."

Weiss touted AKAM, stating it's been "left for dead." Kourtney Gibson said the Loop analyst upgraded DLTR. Doc mentioned CBI and Pete said the XLF.
[Tuesday, June 27, 2017]
Really. It's not 1999.
Pete Najarian on Tuesday's Halftime Report issued one of the show's multitude of cliches, stressing that this isn't like 1999; "it's not even close."

Some cliches are understandable. That one's idiotic. There's never going to be a "1999" market again … because it already happened.

Nobody's ever going to pay $5,000 for a tulip again. Nobody's ever again going to buy a bundle of mortgages rated AAA in which people are lent $500,000 and put no money down and lie about their income.

And nobody's ever again going to pay a 175 P.E. for the Nasdaq.
Judge promised FANG Week on Monday, hardly mentioned it on Tuesday
In a program chock-full of almost every cliche under the sun, Judge on Tuesday's Halftime actually refreshingly did something he rarely does — correct someone's on-air mistake.

Pete Najarian said someone bought 20,000 July 36 calls in AA. Judge noted the screen said July 37. Pete clarified it's actually 36.

Meanwhile, Pete called the financials a "2nd-half story" (cliche), even though that was the case last year.

Pete suggested picking a bottom in energy might not work (cliche).

Judge said "it's clear to me that people expect rates to go up" (cliche).

Jon Najarian agrees with the survey of 23 "of the Street's top strategists" that found 86% consensus that stocks will be higher by year-end.

According to CNBC's on-screen disclosures, Doc is both long SNAP calls and short SNAP calls. (This writer is long SNAP.)

Stephanie Link said you can "barbell" (cliche) technology as well as growth vs. value.

Sarat Sethi talked to a producer while Judge was trying to announce the SunTrust 110 call on CRM. Sarat would buy on a pullback. Stephanie Link apparently thinks it should be owned but said not to "chase" it now (which are basically contradictory statements). Pete said he's waiting for a "catalyst" in the stock. Doc said it has "at least 110" in it.

Josh Spencer of T. Rowe Price said of CRM, "They've just put up the numbers for so long," adding it's the biggest position in his fund. Spencer also touted BABA, but Judge said he's "very surprised, to be honest" that FB isn't on Spencer's list of largest holdings. Spencer said he hasn't owned it for the past couple of years, and it's just one he missed.

Spencer said NVDA is maybe a bit ahead of itself but touted WDAY. He thinks NFLX is "still very attractive."

Pete said if Congress could "focus" on tax reform more and get away from health care, then tax reform might happen (cliche).

Link said expectations for health care reform are "completely nonexistent" (cliche).

And we also got the obligatory, once-a-show-where-Stephanie's-present quota of "Omigod Stephanie was SO SMART to buy Amazon!!!!!!" (Because she hasn't bought any losers for TIAA).

Sarat Sethi said he owns Nestle and praised management; he said if Loeb can work with them, great, but he doesn't want a "clash."

Doc said people aggressively sold TMUS July 59 puts. He called it a "Buffett"-like trade. Pete Najarian said volatility's really low right now (cliche).

Scott Nations said Q1 GDP is the "only hope" for dollar bulls. Brian Stutland said he's looking for a bounce of a couple percent, but year-end, maybe even 90.

Doc's final trade was KO. Pete said XLF (cliche), Steph Link said SWK and Sarat Sethi said LOW.
[Monday, June 26, 2017]
Pete credits Zuck for beating SNAP … into a $20 billion company
Judge on Monday promised this will be "FANG (sic just one 'A') Week" on the Halftime Report. (As opposed to all the other weeks.)

Pete Najarian wondered if it's FANG or FANGMAN.

Stephen Weiss curiously hailed Mark Zuckerberg as "one of those unique individuals" such as Steve Jobs who's creating "an entire new asset class." (Really. Liking a photo is apparently a new asset class.)

Then Pete Najarian chimed in with a very strange assessment: "Look at what he has done to SNAP. Since the day he tried to buy them for $3 billion, and they gave him the Heisman, look at what he's done. He went after them, he's aggressive, and he's beaten them the entire way along as he's gone through this (sic grammar)."

OK. So he tried to buy at $3 billion. Now it's worth $20 billion. Really beat them good. (This writer is long SNAP.)

"Facebook has plenty of room to still grow," Pete said.

Jim Lebenthal said at 1.28, FB has "a very low PEG ratio." (In other words, plow into the shares whole hog right now. Oops, wait a minute — no one actually said that.)

Tony Dwyer admitted he's been "market neutral" on the FANGs.

Judge characterized Dwyer as "looking for a pullback." Dwyer said, "No, I got about a month, month and a half ago, I actually, I, I upgraded our view of the market." (He later clarified "it was actually April 27th.")

Lew Piantedosi of Eaton Vance said he views "all 3 of those stocks" (sic not clear which 3) as "today's blue chips." He said he owns a little AAPL; "it's hard to really get your arms around what- where- you know, what their growth rate truly is. … At the end of every cycle, there's a cliff."

Piantedosi said the new iPhone is being priced "at a huge premium to their competitors."
Tony Dwyer sorta says inverted yield curve should be feared and sorta says it shouldn't
Employing rather stark terminology, Tony Dwyer said there's one thing he'd like viewers of Monday's Halftime to know.

Dwyer said at the top of the show you "never, ever" (it was actually stronger than that) get negative in this kind of market without an inverted yield curve.

But actually, it's deeper than that. Dwyer said people on TV talking about a flattening yield curve being a negative was "making me want to gouge my eyes out," rather, "the opposite is true."

Jim Lebenthal said "let's not get too scared here," noting the inverted yield curve has predicted "15 of the last 10 recessions." Dwyer said "I love Jim," but there's only one time (1966) the curve inverted and it didn't lead to a recession since 1954.

Dwyer said of his S&P-up-300 by year-end 2018, "I think that's way too conservative." Judge demanded the "right number." Dwyer said, "It depends on what the earnings are."
Perhaps Nestle can start working on self-driving cars
It's apparently FANG Week on the Halftime Report. But barely 11 minutes into Monday's show, Judge had moved on to Third Point's Nestle position.

Judge said he's told by sources that Loeb views European valuations as "more attractive."

Leslie Picker, wowing Englewood Cliffs with new hairstyle, said a lot of Loeb's ideas apparently are part of what the Nestle CEO is thinking anyway.

Picker said it's not like Loeb owns 50%, but "if the proposals are solid enough," then "it should be easy to get other activist investors- or other investors on board."

Steve Weiss started to stress that it's not a U.S. company; Judge butted in to say he had already reported that. Weiss said there's been "no results" from the Sony campaign.
Pete says COST fell too far but actually not enough
Pete Najarian on Monday's Halftime mentioned that options buyers somehow … somehow … are actually expecting a stock to FALL.

In this case, Pete said, it's someone buying July 75.5 puts in LOW.

But Jim Lebenthal said there won't be any housing data for 3 weeks, and no earnings for 3 weeks, so now LOW is in a quiet phase where "the trend is your friend."

Pete grumbled that Goldman Sachs has had a sell on AMD "forever" and that Goldman even had a sell on the name under $2 and that he follows analysts who succeed such as Katy Huberty and Mark Mahaney (except when Mark likes SNAP, which Pete thinks is going to single digits). Stephen Weiss said AMD has "never been a quality company" and said there are "easier ways to make money."

Tony Dwyer told Judge the most attractive sector is banks (snicker).

Kari Firestone touted MTSI as the "one-stop shop for data center chips." (Guessing that probably involves self-driving cars.) (Wonder if Pete thinks it's done its part to wipe out SNAP.)

Stephen Weiss agreed with Telsey's upgrade of PLCE.

Jim Lebenthal said CAR made a "really good move" to make an agreement with GOOGL on … yep … Self. Driving. Cars.

Pete said COST has fallen too much based on the Amazon-WFM news, but he thinks it's still a bit pricey and would be better on a pullback, if that all makes sense.

Pete said it's a "very difficult time" for DRI.

Pete's final trade was the financials (Zzzzzz). Jim said DVA continues down. Weiss likes XBI.
[Friday, June 23, 2017]
Jim crushes one
out of the park
This page has groaned recently at Jim Lebenthal's unending GM/QCOM/JCP/NKE calls on the Halftime Report.

But let's give major credit where it's due.

June 6, Jim touted WGO on the back of Thor's earnings. WGO closed that day at 28.50; it's solidly over 34 now — a gargantuan call and instant contender for Trade of the Year.
Judge actually thanks Tom Lee for skipping part of a meeting
Friday's Halftime opened the way Grandpa Judge always likes — someone suggesting the market's about to flop.

But even Judge had trouble making sense of "CRAP"-trade impresario Tom Lee's split decision … kinda claiming the whole market's under pressure but a bunch of sectors (including FAANG) look good.

Lee said, "Well, I think part of it has to do with a lot of folks recently talking about how low inflation is good for stocks because it's helping the multiple." But he said labor costs pose a threat to margins.

The S&P is at 2,438. Judge noted Lee has "the lowest S&P target on the Street," 2,275.

"I think it may be too low," Lee admitted.

Really.

Then Judge noted that Lee recommends FAANG, materials, technology, industrials, financials and energy.

"I just don't get it," Judge said, suggesting that to go higher, financials would probably need a higher yield curve that Lee doesn't see, and if FAANG rises, how does the overall market not go up.

Lee said FAANG is actually "less than 5% of total market cap" and said he's looking at "select stocks" within the sectors he likes and said that in the whole market, "the median P.E. is now 19.4."

Lee contended there's a "general problem with 50% of the market."

Trying to offer a cogent point to this dubious conversation, Jim Lebenthal said "we've been waiting for wage pressure to pick up for years, and it hasn't."

Somehow, Judge sneered, "Let's just stick to the, to the point we're discussing though."

"I thought it was the point we were discussing," Jim rightly said.

"I don't wanna get into a deep economic weeds question, I mean, answer. Or discussion," Judge said. "Is the market overvalued or not?"

"It's not," Jim said, though Lee "makes a very good point about the median P.E. being 19."

Rob Sechan somehow agrees with Lee's "barbell" approach.

As Lee exited, Judge actually said, "Tom, I know you jumped out of a meeting, um, to jump on with us, and I sincerely appreciate that," but if that's the case, Lee should be thanking Judge; "Scott, many thanks for giving me an excuse to sit that one out."
Jim gaining fund flows
Josh Brown on Friday's Halftime contended that Wall Street pros aren't getting euphoric about stocks because they're scared of losing their jobs to quants; "If you can't get the pros excited, it's tough to get euphoria amongst the amateur."

Jim Lebenthal explained that "all of our careers" are "enhanced" by rising markets.

"I'm actually getting fund flows because I'm doing well and markets are going up," Jim said (and we'll say that if he makes a few more calls like WGO, the cash will be raining in).

Kate Moore said there's not a growth stock bubble; "the earnings are coming through."

Moore said earnings could get upward revisions if there's actually "some sort of bipartisan agreement" (snicker).

Rob Sechan said the Trump agenda "is in slight jeopardy."

Josh Brown said that since Dec. 9, "the Russell 2000 has delivered exactly zero. But now that's starting to change."

Pete Najarian hailed the low VIX as a great opportunity to protect portfolios. Pete cautioned viewers not to write off a stock just because it's gone up recently; he touted WDC.

Judge called the Citi note suggesting a growth bubble "almost Greenspan-esque."
No one mentions Chanos
in CAT discussion
Jim Lebenthal on Friday's Halftime agreed with the Deutsche Bank downgrade of CAT.

But Pete Najarian pointed to the Goldman Sachs analyst who made it a conviction buy in April. Pete said it's a "smart" downgrade but he's not sure about lowering the price target.

Josh Brown said if you want to be long CAT, put a stop at 97/98, where the gap comes from. Rob Sechan said to own it, you have to have a positive view on a slew of infrastructure angles.

Pete Najarian said June 21.50 calls in MT expiring next week were being bought.

Josh Brown said X looks like it wants to make a "stand" at 20.
Doc bungle: Said just last week that back to school is 'like Christmas' for BBBY while touting July 38 calls
Pete Najarian on Friday's Halftime said BBBY is "getting Amazoned" and admitted the call buyers (that would be his brother last week who said he'd "probably" be in the July 38s for 2 weeks) "got it wrong, but at least the risk/reward's not quite as bad."

"At least the risk/reward's not quite as bad." Not quite as bad … as what?

Jim Lebenthal said "honestly" he's surprised FINL is up as much as it is; "I wouldn't own it."

Judge asked why FINL didn't get the FL treatment recently. Jim said expectations were sooo low. (This writer is long FL, partly because gorrrjus Karen Finerman pounded the table for it 10 bucks ago because it was then trading in "integers.")

Kate Moore likes specific health-care names over the ETFs.

Rob Sechan said Argentina's ability to issue 100-year debt shows the "epic demand" for yield.

Josh Brown questioned the short interest in RH and said the stock "probably" goes even higher.

Jim Lebenthal mentioned his "half position" (sigh) in NKE but revealed, "I'm not gonna be a hero in front of this quarter. … If I get a drop after the earnings report, I'm gonna be in with both feet."

Josh said 49, 50 has been "pretty substantial support" in NKE, but if it breaks that on a bad report, watch out.

Kate Moore is "still excited about the banks" (snicker). Rob Sechan likes XLK and IBB into the end of the quarter. Jim said he's thinking about getting back into BA, which he famously talked about trimming a while back.

Jim said JCP's exit from the S&P 500 is merely a "technical issue" and that the Amazonization "is already in there."

Josh Brown bought more SCHW.

Judge congratulated Jim for Jim's firm's inclusion in the FT list.
[Wednesday, November 4, 2009]
We only mention this to be nice,
to pay a compliment
We've never seen a birthday celebration as muted as the one for Mel Lee on Wednesday.

No cake, no singing, no cheering, etc.

Guy Adami broached the subject fairly early. "We won't give you a number, because you haven't told me the number. I'm sure you could look it up out there folks," Adami said.

"Google," said Tim Seymour.

"She doesn't look a day past 47, she looks great," Adami said.

Actually, we have Googled before ... she is obviously either 36 or 37 ... but one reason Lee hasn't yet made our "CNBC Star Profiles" page where she clearly belongs is because there is little information to be found about her in cyberspace. (Note to searchers; there are a couple other famous Melissa Lees worldwide, we think maybe Australia and South Korea, so careful.) Even Lee's Wikipedia page, which apparently has been the subject of fierce editing battles this year and just today added the Nov. 4 birthdate, is pretty light on details.

However, we did stumble upon this December 2008 interview in Asiancemagazine.com, and were floored by the final question and answer.

It went like this:

ASIANCE: Do you have a boyfriend? Are you married?
Melissa: ha-ha. No and no.

We knew she wasn't married. Granted, this interview was from 2008, and for all we know, things might've changed.

But, "No and no"?

And what's with the "ha-ha"?

Melissa Lee didn't (perhaps doesn't?) have a boyfriend??

Here's the deal ... hard work and career success are great. Lee probably gets up at 5 a.m. or even 4 a.m. and probably sometimes is at the office 12 hours a day.

Socializing is a big part of life too. We've always kind of imagined Lee getting whisked away to Campagnola after every show by some proud guy and yukking it up for hours about Lloyd Blankfein or Jimmy Cayne or Keith Olbermann or whoever with Charles Gasparino or whoever else happens to be there.

The idea that might not be happening is disheartening.

A female CNBC star evidently didn't have a boyfriend.

Wow.

Guys, it just goes to show, sometimes you never know if she's spoken for until you ask.

CNBCfix, by the way, exclusively broke the scoop on Karen Finerman's birthdate many months ago.

Melissa Lee gave the camera one of those mesmerizing little looks again during the RIMM portion of "Pops & Drops."